Many asphalted roads in Ho Chi Minh City center have been improved and repaired, while the quality of some roads in the suburbs of the city have become seriously damaged, with few repairs done for many years.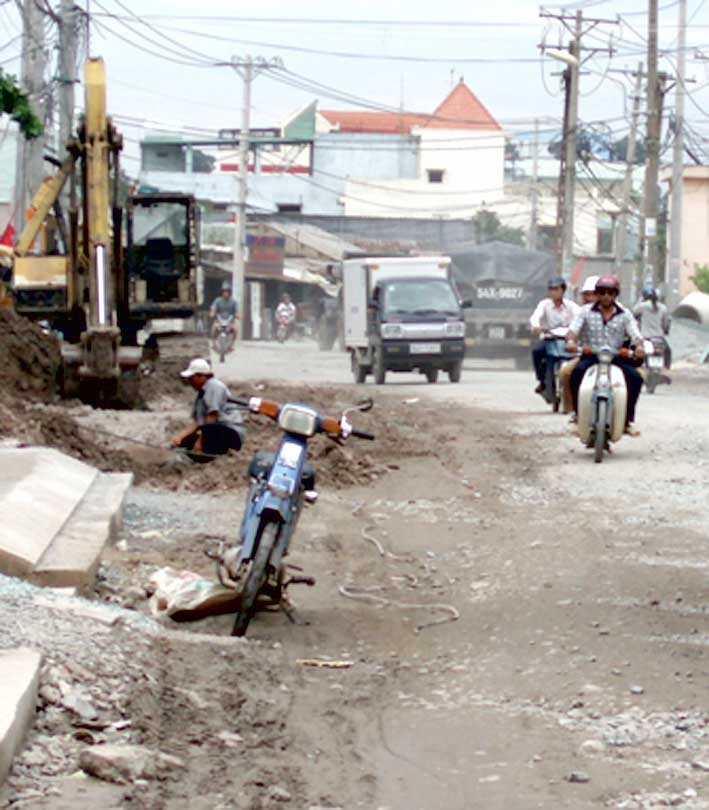 Work to improve Dang Van Bi street is not complete yet, poor road surfaces, environmental pollution. (Photo: SGGP)
In March, 2007, work on Dang Van Bi Street, Thu Duc District, was begun to repair and upgrade the roads after years of deteriorating quality. The work was expected to be completed March this year but it still remains incomplete.
Since work started on the 1.6 kilometer road, poor road surfaces, environmental pollution and traffic accidents have been a constant.
If there is a lot of dust on a sunny day or it is a very wet day, motorists have to travel on other roads, as they do not want to risk running into potholes. Various accidents have been caused do to the dangerous potholed surface.
Le Van Luong Street, districts Nha Be and 7, which connects Nha Be with the city center is well-known for its muddy surface and increasingly worsening quality over the last five years.
In July, 2007, work began on the street and since and then it has become a swamp over four kilometers. On a rain day, the road is covered with mud.
The work was expected to take one year but is still incomplete.
The road network in District 12 and Binh Tan is no better, many roads not properly surfaced with asphalt.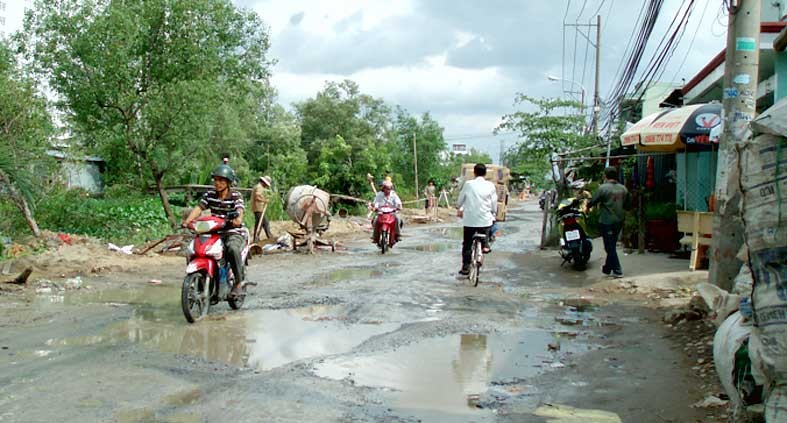 Le Van Luong street, district 7 and Nha Be is well-known for its muddy surface. (Photo: SGGP)
A resident in District 12 said most roads in the areas are dirt roads, do not have drainage and have many potholes. When it rains, the roads are flooded and it is difficult to travel.
The same situation can also been seen in districts 9, Binh Chanh, Thu Duc and Nha Be.
Many residents said the State had handed over road networks' maintenance to local districts but funds are limited, with many roads becoming overloaded and falling into disrepair.  
Some areas are such as Hiep Thanh Ward, District 12 are part of a plan to be build an industrial zone, but the plan has yet to receive approval leading to roads not being improved.
The situation has not yet been resolved and city residents still have to travel on damaged and muddy roads everyday.