The Party Committee, People's Council and People's Committee of HCMC yesterday hosted a conference to meet over 400 enterprises and listen to their opinions about ways and proposals to solve difficulties and develop businesses.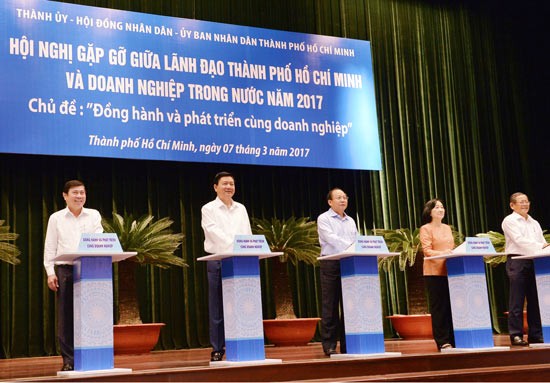 HCMC's top leaders at meeting with over 400 businesses on March 7 (Photo: SGGP)
Director general of Binh Minh Plastic Company Nguyen Hoang Ngan says that most Vietnamese businesses are small and medium sized with limited competitiveness. Firms in the plastic industry are under the pressure of being usurped by foreign giants.
Meantime, domestic companies have met with difficulties in capital access and the amount of assistant funds from the government has been short of their investment demand. Therefore, Mr. Ngan proposed the city to have a clearer capital investment strategy for businesses and develop large companies with market guiding ability to create supply chain systems.
He suggested building national standards for plastic items in particular and other products in the market in accordance with international standards, saying that a basic factor to estimate product quality. At present, the plastic tube making industry alone has two different sets of standards for the northern and southern region. Therefore, products from the two regions are unable to joint together.
In addition, the Government should establish technical barriers to protect high quality local products. Domestic firms can produce safe and eye catching plastic toys but they have to compete with much cheaper but toxic import products flooding the market because Vietnam has no technical barriers to examine toxins in toys.
Businesses have experienced policy inconsistence risks. Formerly, tax inspectors decided to collect the arrears of up to VND70 billion from Binh Minh Company. After many years of appealing against the irrational decision, tax agency ultimately agreed to return the collected amount to the company.
Mr. Diep Dung, chairman of HCMC Commercial Cooperative Union (Saigon Co.op), said that foreign supermarket systems have strongly invested in Vietnam for the recent past. Many domestic supermarkets have changed into foreign ownership, raising difficulties for local businesses in keeping and developing their market shares.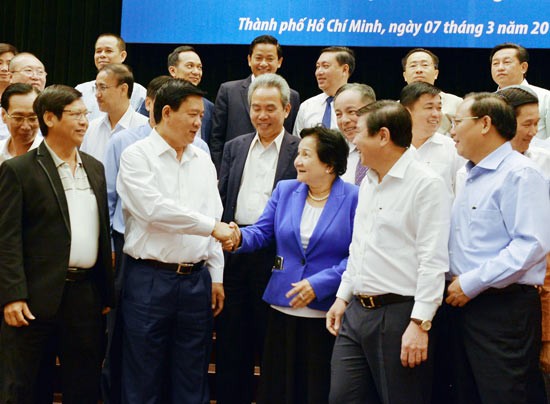 HCMC party chief Dinh La Thang shaking hands with a businesswoman at the conference (Photo: SGGP)
Going with foreign supermarkets is overseas production. Their goods have quickly penetrated and commanded the market. Domestic firms wanting to attend their supply chains must standardize product quality, production process and management system. However, they have been unable to do so themselves and needed the Government's assistance in all aspects.
At first, the Government should quickly build a set of norms to standardize product quality, he proposed.
Ms. Le Thanh Lam, director general of Saigon Food, stressed that the state should facilitate local supermarkets' network development. Production companies should more tightly connect together to create an advantage while negotiating for percentage with foreign supermarkets. They usually require high percentage while local suppliers have just managed to sell their goods in their own ways and even accepted high percentage instead of linking up together to create strength in the market.
Support industry growth in HCMC has been lower than other provinces in the country. Small and super small production firms have located out from industrial parks so there has no foundation to form connectivity chains from material suppliers to manufacturers, build market and do procedures to get demand stimulation loans.
HCMC should have assistant policies to develop small industrial zones over 3-5 hectares suiting the needs of businesses in the same field, she suggested.
Deputy chairman of the city People's Committee Le Thanh Liem said that the committee would instruct relevant districts and investors to review land area used in industrial parks including particular area suiting types of support industry.
Mr. Kieu Huynh Son from the HCMC Association of Mechanical-Electrical Enterprises, proposed the city to give rent and loan assistance to develop infrastructures, attract businesses to industrial parks and boost support industry development.
Concluding the conference, secretary of the HCMC Party Committee Dinh La Thang said that the city committed to reforming to create advantageous conditions for businesses to develop. He required authorized agencies to receive and immediately solve or respond to opinions and proposals at the conference.