Twenty-two young doctors and surgeons in HCM City were presented yesterday the first Pham Ngoc Thach awards of 2009 for their achievements in medicine and contribution to society.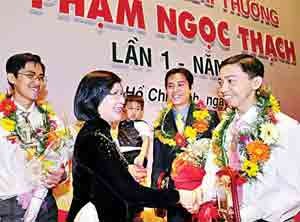 HCMC deputy Chairwoman Nguyen Thi Thu Ha (C)congratulates award winners
The awarded doctors did not only make outstanding achievements in medical and scientific studies but also voluntarily traveled to remote or flood-stricken areas in the Mekong Delta, central provinces or mountainous areas, and in some cases Laos and Cambodia, to give free treatment or surgery to impoverished patients.

Present at the awarding ceremony were Vice Party Secretary of HCM City Party Committee Huynh Thi Nhan, Secretary of HCMC Communist Youth Union Phan Van Mai, deputy Chairwoman of the HCMC People's Committee Nguyen Thi Thu Ha and 500 young doctors working in hospitals throughout the city.

Addressing the ceremony, Ms. Ha emphasized that the Party and people of the city greatly appreciate the devotion of thousands of city's young voluntarily doctors and surgeons to social development and appealed to them to continually improve upon their medical ethics.

Ha also encouraged the doctors to take part in the campaign 'Voluntary doctors with great medical ethics and good professional skills,' which has been launched by HCMC Communist Youth Union.

Pham Ngoc Thach is an award offered by HCMC Communist Youth Union twice a year to young doctors of excellence.

Named after Pham Ngoc Thach, (1909 - 1968), the first Minister of Health and doctor who made great contributions to the cause of healthcare development in the country, the award is aimed at encouraging young doctors to dedicate themselves in working, studying and contributing to social development.

The awarding ceremony was organized by the HCMC Communist Youth Union and held at the Opera House to mark the 54th anniversary of Doctors' day (April 27, 1955 – April 27, 2009).