Bus stations in Ho Chi Minh City have announced they will allow coach companies under their jurisdiction to increase bus ticket costs by up to 60 percent for travel during the upcoming back-to-back long weekends at the end of April and early May.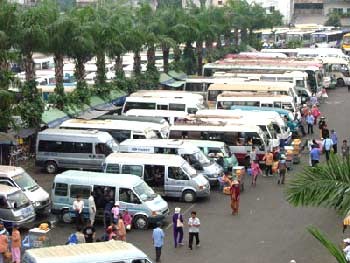 HCMC's Eastern Bus Station is one of several that will apply higher ticket prices, up to 60 percent over normal costs, for the upcoming long weekends at the end of April and early May
This year, the Southern Liberation – a national holiday - falls on a Friday. Many will also get an extra day off work on Monday, May 3 for International Workers' Day (May 1).  
The Eastern Bus Station in HCMC said it had reserved additional 20-40 buses from the city's Department of Transport to handle the influx of travelers during the two long weekends, and that ticket costs would be 60 percent higher than normal. 
HCMC's Western Bus Station, meanwhile, said tickets to the Mekong Delta city of Can Tho and other nearby destinations would increase by 40 percent above normal. 
Bus station representatives predict that the most popular tours this year will be to neighboring provinces; the coastal cities of Vung Tau and Phan Thiet; the Highlands city of Da Lat; and other routes to the central province of Khanh Hoa and Central Highlands' province of Dak Lak.