On July 5, the Ho Chi Minh City Party Committee's Congress concluded after three days. The conference transferred the new post of the City's Party Secretary to Politburo member Le Thanh Hai, who has been city chairman since 2001.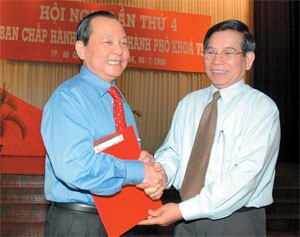 State President Nguyen Minh Triet (R) congratulates new HCMC Party Secretary Le Thanh Hai

Mr. Le Thanh Hai replaces Mr. Nguyen Minh Triet, who was elected as State President by the National Assembly last week.
The conference also approved a socio-economic resolution that covers nine issues and is part of a social and economic development plan for 2006-2010.
Addressing the closing session, former Secretary of HCMC Party Committee Nguyen Minh Triet stressed that centralized democracy should be secured in leadership work. He asked city leaders to listen to the public's opinions for better management.
In terms of personnel planning, Mr. Triet said the city's civil servants need not to be qualified in different professions, but they must be effective workers.
He also voiced his concerns over the city's infrastructure and poor urban management, as well as the incompetence of some leaders and officials. He asked the city to continue pushing for transparent and strong Party cells.
Newly-appointed Secretary Le Thanh Hai proposed several socio-economic resolutions for the next six months, including the implementation of restructuring roadmap for industry to improve capacity, quality and effectiveness, and to increase added values and export.
The city will focus on developing four industries, namely mechanics, electronics-computing, chemistry and food processing, according to him.
He also said the city will pay more attention to the deployment of staff in project management units, consolidating and improving their capacity and morality.
Mr. Le Thanh Hai stressed the importance of modifying the city's planning, saying the city will hire good consultative companies and collect opinions of the public and organizations to avoid inappropriate planning.
He added that the planning will not be conducted in the city only; it will cover the whole southern key economic zone. And the city's population may be around 10 million people in 2005, according to Mr. Hai.
At the farewell session, new HCMC Party Secretary Le Thanh Hai praised the great contributions made by former Secretary Nguyen Minh Triet to the development of Ho Chi Minh City. He said Mr. Nguyen Minh Triet is an example of a dynamic, creative, responsible and devoted leader.