The Department of Education and Training in Ho Chi Minh City has planned to allocate more fund for building schools for the academic year 2015-2016 as the city has additional 85,145 students.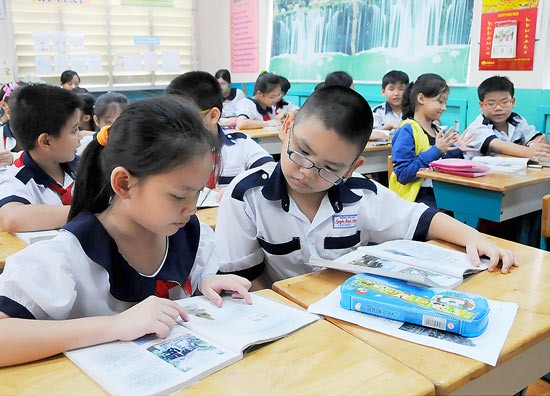 (Photo: SGGP)
For the last academic year, the city spent around VND9,000 billion (US$400.7 million) to invest in education sector.

According to the Department's report, for this academic year, approximately 1,518 rooms will be used.
21 projects of building preschools started construction and other 51 other projects are completing formality to begin construction this year.
It is estimated that total investment for projects is over VND2,700 billion (US$120.2 million).
In addition, Mr. Le Hoai Nam, deputy head of the municipal Department of Education and Training, said that other 6 projects that are planned to build in industrial and export processing zone become operational this year meanwhile 21 other projects are completing to be able to receive children workers in industrial and export processing parks.

Mr. Nam said that to reduce the number of students in a class, in the new academic year, the rate of day-boarders will decrease compared to the previous years. For instance, in Thu Duc District whose number of students averagely increased by 4,500-5,000 annually, there will be no boarding schools.
The number of students in a class in primary schools and junior school in the district is 45.7 and 44 respectively.
Similarly, in Binh Tan District, no school is recognized to reach the national standard because of big class and there are a few day-boarders; thus, the effectiveness of education reform can not meet the requirement.

In HCMC's Binh Chanh District, schools have not been built while the fast increase in the population in communes Vinh Loc A, Vinh Loc B, Tan Kien and Binh Hung caused residents to have to send their children to far-away schools or private facilities.
In district 11, there has been not enough state schools in all wards while in district 10, 100 preschools and primary schools are boarding schools, said Ms. Duong Thi Diep, deputy chairwoman of district Fatherland Front Committee, yet she added that only 3 out of 8 junior high schools in the district are keeping day-boarders.

It showed that the city has tried its efforts to invest in building schools yet.