A total 34 major construction-related accidents were reported in Ho Chi Minh last year, leaving ten dead, 27 injured, according to the HCMC People's Committee.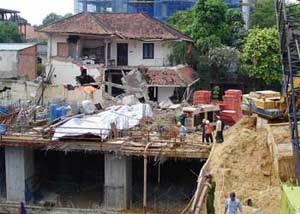 The Institute of Social Sciences for Southern Viet Nam after its collapse.
Some of the most serious incidents were due to poor construction quality including the collapse of the Institute of Social Sciences for Southern Viet Nam in district 1 and of a tower crane at the Centec Tower construction site in District 3 which injured six.
Most accidents occurred when workers failed to abide by construction safety regulations. In other cases, they did not even have a blueprint.
In related news, local authorities reportedly discovered violations in 13,367 construction projects last year, up 11,800 cases compared to 2006.
Of them, 3,690 projects lacked proper licensing.
Local authorities have imposed administrative penalties on 669 cases, issuing fines totalling VND6.68 billion (US$417,500). They ordered nearly 5,694 illegal structures be partially or wholly dismantled.