The Consular Club of Ho Chi Minh City will hold its annual charity auction of paintings at the Sedona Town Club on November 11.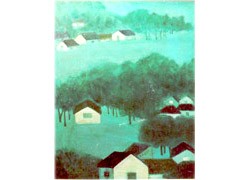 A work of artist Thai Tuan will be auctioned in this event
This year the event is being organized by the US Consulate-General and the Ho Chi Minh City Art Association.
Among the foreign artists whose work will go under the hammer are Cindy Winnick, Tuenkhae Sanguanbun, Victoria Brown and the photographers Helene Kling and Nadege.
There'll also be plenty of home-grown pictures from the likes of Thai Tuan, Nguyen Trung, Ho Huu Thu, Dao Minh Tri, Nguyen Than, Nguyen Tan Cuong, Huynh Hoa, Nguyen Thi Kim Chi, Le King Tai, Nguyen Thi Quynh Hoa and Hoang Ly Bach Tuyet.
The auction will take place from five to eight o'clock in the evening in the restaurant of Sedona Town Club, which is housed in Saigon Center in the middle of town.
Proceeds from the auction will go into a fund for orphans, disabled children, heart patients and the victims of Typhoon Xangsane.
To attend the auction, contact Zen Gallery at 83 Nguyen Van Troi Street, Phu Nhuan District.