Thousands of people flocked to the 18th annual charity bazaar of the Consular Club in Ho Chi Minh City Saturday to make shopping for a good cause.
The event was held from 10 am until 2:30 pm at new venue Diamond Place in Phu Nhuan District, by members of the Consular Club, an organization compromised of members from the various diplomatic missions and trade representatives in the city.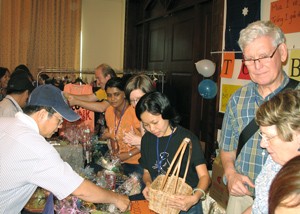 Australian Consul General Graeme Swift (the tallest) and his wife Cherie (with glasses next to him) serve as sellers at the Australian counter (Photo: Tuong Thuy)
International goods, food, beverages, books and clothes were among the items the participants rushed to buy.
Santa Claus was also there to have his photo taken with children and adults as well as to breathe the festive atmosphere of Christmas into the event. 
Entry tickets cost VND80,000 for adults. Children under 10 accompanied by an adult entered free of charge. Lucky draw tickets were available for VND50,000 each.
All proceeds from the charity event will be redistributed to help those less fortunate in the community, according to the organizers.
Projects supported by the Consular Club through funds generated from the charity bazaar range from scholarships, to medical care, improved rainwater purification, flood relief and more.