Ho Chi Minh City consumers have turned their backs on Chinese agricultural products as they are considered unsafe and harmful for health.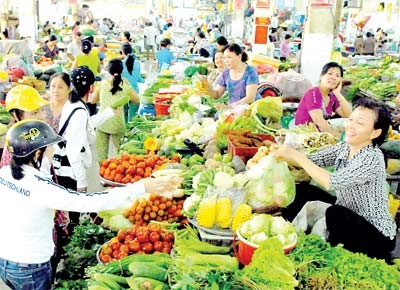 Shoppers at a market in Ho Chi Minh City (Photo: SGGP)
Chinese food items began to flood wholesale and retail markets in the city in 2005. Apples, pears, grapes, mandarin oranges, eggs, fish, carrots, potatoes, onions, ginger and broccoli are but a few foods that were found in abundance in all markets.
 
Nguyen Thanh Ha, deputy director of Thu Duc Wholesale Market Management Company, said a total of 1,300 tons of fruits and vegetables were transported to the markets every night in May 2005, of which 200 tons came from China.
 
She added that most of the items were carrots, cauliflower, onions, garlic, ginger, potatoes, apples and pears.
 
Hoc Mon wholesale market received about 100 tons of fruits and vegetables imported from China every night, of which 30 tons were carrots, 15-20 tons was garlic and 20 tons were potatoes.
 
The volume of Chinese agro products in these markets has of late dropped drastically.
 
The total quantity of vegetables arriving at Thu Duc wholesale market was 1,300 tons on the night of May 30, 2011, but only 50-60 tons were from China. Some nights, the total volume of Chinese vegetables available in the market is only 45 tons.
 
Earlier Chinese fruits accounted for 30 percent of total imported fruits sold in the market; now the figure has dropped to less than 10 percent.
 
According to the General Department of Customs, the total volume of vegetables imported from China went down by 18.31 percent in the first quarter of the year. In March alone, the volume decreased by 26.57 percent.
 
Reasons
 
The volume of Chinese fruits and vegetables imported into Vietnam has reduced because local shoppers no longer trust the quality of Chinese foods.
 
Shoppers doubt that Chinese fruits and vegetables are fresh and toxic free and if Chinese farmers grow the produce in chemical and steroid free soil.
 
Chinese vegetables look very nice and have a beautiful color, but when they are cooked their color runs and they are no longer sweet and crispy like the Vietnamese vegetables from Da Lat.

Another reason is the high price of Chinese foods, particularly since early this year.
 
Continuous hike of the Chinese Yuan against the Vietnamese dong and fuel price hikes have pushed up the prices of Chinese food imports.
 
At present, the wholesale price difference between Vietnamese and Chinese fruits and vegetables is marginal. For instance, the wholesale price of a kilogram of Chinese cabbage is VND4,000-5,000, while that of a Da Lat cabbage is VND3,800. A kilogram of carrot imported from China costs VND4,000-4,500, while a kilogram of Vietnamese carrot goes for VND4,500.
 
Ba Hung, a fruit wholesaler in Thu Duc Wholesale Market, said he usually imports 3-4 containers of Chinese fruits and sometimes even 5 containers per night, but recently he imports only one container per night and the remainder of the fruit demand is covered by other countries.
 
He said his customers no longer want to buy Chinese fruits. They accept buying high quality fruits at high prices from other countries rather than China, which they believe are unsafe.
 
Ms. Ha said people on medium or high incomes prefer fruits imported from the USA, Australia, New Zealand and Chile, though more expensive than Chinese fruits but safer and of good quality. Low-income people however are wiser as they prefer local Vietnamese fruits as they are cheaper and safer than Chinese fruits.