The authorities in Ho Chi Minh City seized eight tons of cakes, candy and jam that had past their expiry date or showed no manufacturing origin.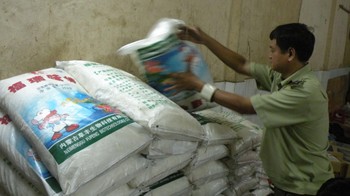 A market management official examines MSG bags with no expire date in District 6, HCMC (Photo: Tuoi Tre)
On January 19, market management officials along with the police raided a shop in Binh Tay Market in District 6. They confiscated about 100 kilograms of candy, 1,000 kilograms of MSG and 40 kilograms of sucrose which had no manufacturing label or were past their expiry date.
Officials also raided the shop owner's residence and found thousands tons of cakes and candy imported from China without invoices, documents or names of the production units. Several boxes of cakes and candy had also fermented and the rotten smell was host to crawling mice and cockroaches.
Over the last two days, city officials have seized over seven tons of contraband goods in several markets. Most of these goods, of cakes and candy show no production or expiry date and some are suspected to be more than two years old. 1,900 kilograms of jams and 1,250 kilograms of MSG with Chinese markings have no invoices or relevant documents.