A fourth elevated road will be built in Ho Chi Minh City to ease local traffic congestion, according to an agreement signed yesterday between the HCMC People's Committee and Construction Corporation No.1.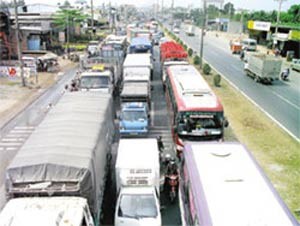 Traffic congestion is expected to be reduced after the completion of four elevated roads will be in use.
The 9.6km long, 18m wide road will go from National Highway No. 13 in Binh Phuoc Province, cross the Sai Gon River and various streets including Vuon Lai, Nguyen Xi, Dinh Bo Linh, Dien Bien Phu to connect with Elevated Road No.1 in the Nhieu Loc – Thi Nghe Canal Basin.

The highway will have four lanes and the capacity to accommodate vehicles of up to 30 tons. It will able to handle vehicles traveling at speeds of up to 80km/h.

Construction will cost a total of VND6,000 billion (US$375 million), excluding the site clearance fee. The project will be constructed under the build-operate-transfer and build-transfer forms.

The project's main investor is committed to making arrangements to finance the project within nine months and to completing construction within four years of receiving a license to carry out the project.

The city plans to build four interconnected elevated roads for a total of VND15,000 billion (US$937.5 million).