Supermarket chain Co-op Mart is set to introduce small retail shops in preparation for Tet (Lunar New Year).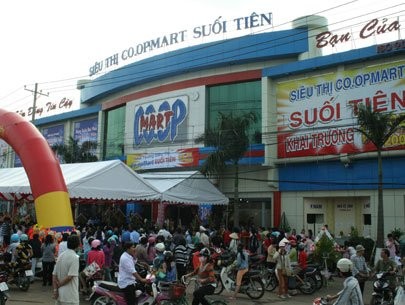 Co.opMart sets up small retail shops in many places in the city in preparation for Tet and pricestability
As Tet approaches, shopkeepers in traditional markets usually overcharge, cheat on weight or sell adulterated foods, Co-op Mart plans to set up a chain of small shops called 'Co-op Food' in many places in the city with a view to offer customers' better quality goods at more competitive prices.
Besides, these shops will help in stabilizing prices during the Tet season.
According to Co-op Mart, customers will be offered free parking, free consultation on different foods and many shopping coupons.
The first shop was opened on December 27 at the apartment block Phan Van Tri in district 5. It was an instant success and subsequently 16 more shops have opened in other districts.
Co-op Mart plans to open 30 such small Co-op Food shops including in outlying districts of Hoc Mon, Binh Chanh, Thu Duc and Nha Be. Recently, residents in these suburban areas were seen to be spending more on shopping and businesses must also look into the needs of such customers.