Bus companies in Ho Chi Minh City will raise ticket prices by 20-60 percent during peak travel times during the upcoming Tet (Lunar New Year) holiday in February.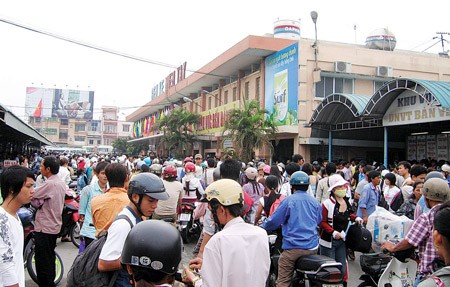 The East Bus Station in Ho Chi Minh City is always crowded as the annual Tet holiday approaches. (Photo: SGGP)
Many companies said that increasing ticket prices was necessary to offset the cost of empty coaches on return legs to the city. Many passengers, however, complain that the price hikes are unreasonable and that companies are simply gouging them during the busy travel period.
According to deputy director of the East Bus Station, Thuong Thanh Hai, the station in conjunction with transport companies will raise ticket prices by 20-60 percent during the holiday period.
The number of bus passengers spikes each year during Tet with many coaches filling to capacity. 
Le Quang Tung from Quang Nam Province, a passenger who often travels from Quang Nam to Ho Chi Minh City, said there are normally just a handful of travelers onboard during other months of the year. To increase profits, bus drivers will often drive around looking for more passengers, Tung said.
Many passengers say therefore, they don't believe the bus companies are losing profits – especially during Tet when travelers pack buses.
Tickets for the Quang Nam-HCM City route cost around VND200,000 (US$11) each way, but ahead of Tet, prices increase by two to three times.
Phan Dinh Quy, a driver on the Quang Nam-HCM City route, said that transport companies know they can raise prices over the holidays, as people will travel no matter what the cost to visit their families.
Quy's driving assistant Tuan said the buses usually take in around VND1 million per day throughout the year, but for the two weeks before and after Tet, which this year falls on February 14, they can take in up to VND9 million per day.
Thus, even without raising ticket prices the companies would still earn higher profits.
Bus companies will raise prices by 40 percent for travel from February 4-6, and by 60 percent from February 7-13 for routes from HCM City to Thua Thien – Hue and to north provinces; from Ninh Thuan Province to Da Nang and Central Highlands regions; and routes in the southern provinces of Binh Thuan, Binh Duong, Binh Phuoc and Lam Dong .
Companies will raise ticket prices by 20 percent on the above routes from February 14-16.
According to East Bus Station officials, the cost increases were calculated based on market mechanisms, and bus companies and station leaders had agreed on the increase in prices.