After deputies at last week's 16th session of Ho Chi Minh City People's Council asked questions about large fees and leaked wastewater at Da Phuoc waste treatment facility, the People's Council September 23 had a working meeting with Vietnam Waste Solutions (VWS), developer of the Da Phuoc Complex over the issue.
VWS's CEO, David Duong, stressed that his company does not discharge untreated wastewater into environment , as officials from the Department of Natural Resources and Environment daily supervise the facility daily.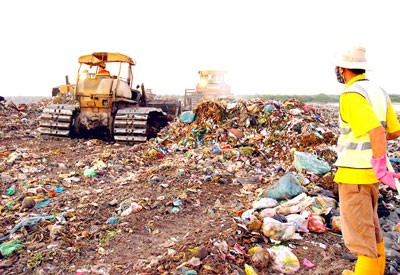 A corner of the Da Phuoc waste treatment facility where receives 3,000 tons of garbage per day (Photo: SGGP)
Responding to VietnamNet newspaper's report of VWS leaking such wastewater, Mr. Duong said relevant agencies will reply to the matter.
He also claimed that the photo used as part of the newspaper's allegations was doctored.
The department's director, Dao Anh Kiet, agrees with David Duong, saying that his officials have taken water samples from cesspits which were claimed by the newspaper to have leaked wastewater. After testing, it turned out to be rain water.
Deputy Le Thuong Man questioned: "The complex could handle some 3,000 tons of garbage per day. According to environmental experts, such garbage will produce around 800 cubic meters of wastewater while VWS has constructed only one treatment facility with a capacity of 280 cubic meters a day. Where would the remaining waste go?"
Mr. Duong said it takes years for some 3,000 tons of garbage to produce around 800 cubic meters of wastewater, therefore, Da Phuoc Complex, which was licensed to operate for 50 years, will only receive garbage for 22 years and treat the waste water and gas for the remaining 28 years.
Mr. Duong promised to provide documents for water treatment procedure to People's Council deputies.
In response to why the Da Phuoc facility charges US$16.40 while VWS has not completed all constructions, Mr. Duong said the complex, worth around $100 million, covers an area of 120 hectares in the Da Phuoc Commune in HCMC's Binh Chanh District.
Currently, the city government has been slow to hand over 50 hectares of land for the company to continue the project. Without the land, waste collection at the facility may have to be suspended because the first-phase dumping areas are nearly full.
The head of VWS said the company expected to build a recycling factory to profit from selling recyclable products. VWS complained the city has not implemented changes to sort out garbage. Accordingly the company cannot recycle such garbage.

Related article:
Official clears up treatment facility costs