A secondary school pupil made all participants of a meeting between Ho Chi Minh City's leaders and excellent pupils moved with his words as saying that he would like city's leaders to take more care of disadvantaged children and facilitate them to go to school.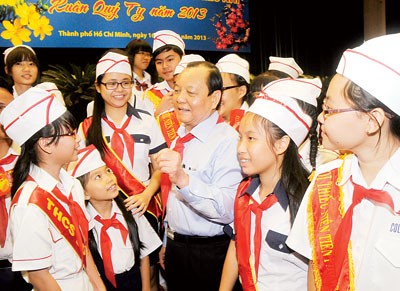 Le Thanh Hai, Secreatary of the Ho Chi Minh City's Party Committee talk with children in the meeting held at the City Hall on Feb. 16, 2013.
The meeting was held on Saturday where 130 excellent students from all schools in the city were chosen to participate in order raise their voice.
Tran The Loc, 13 years old, said that there were still many disadvantaged children who had to sell lottery tickets or beg on streets instead of going to school.
"If a child is not able to go to school the country may lose a talent", he said at the meeting.
Agreeing with Loc, Nguyen Manh Hoang Quan, 14 years old, told a story about his neighbor boy who has to beg everyday and requested city's leaders to help children like the boy.
Being surprised and moved by what children say and think of, Chairwoman of the Ho Chi Minh City People's Council Nguyen Thi Quyet Tam said that their thinking was mature and compassionated.
The chairwoman was more amazed when children replied her asking them to donate disadvantaged boys and girls that they often donate the poor but they cannot help them overcome completely poverty.
Only leaders with right policies can help the poor, 14 year old Tieu Hai Phong said.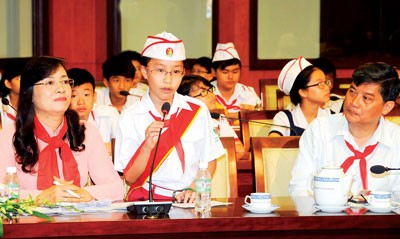 Ms. Nguyen Thi Quyet Tam, Chairwoman of the city People' Council (L) and Nguyen Van Dua, Deputy Chief of the city Party Committee listen to a pupil at the meeting held in the City Hall on Feb.16, 2013.
At the meeting, pupils also raised concerns over local issues such as school curriculums that have much more theory classes than practical classes, unemployment of after-graduates because of wrong carrier choice, less playgrounds in rural areas…
City's Party Committee leader Le Thanh Hai said that pupils' concerns were also city's leaders'.
I have harvested more helpful things in every meeting with children, the leader said.
"From children eyes they think of issues in our life very positively and I am proud of our children", he added.
Ms. Nguyen Thi Quyet Tam said that children's thinking displayed that they did not neglect the life and people surround them.
What they said are not only their dreams but also youth's responsibility for the life and the country.
The meeting is held every year, creating a forum for leaders to listen to children's voice.