Vietnam Rare Chemical Company (VRec) hosted a groundbreaking ceremony of their zircon plant at Cai Mep Industrial Park in the southern province of Ba Ria-Vung Tau on June 5.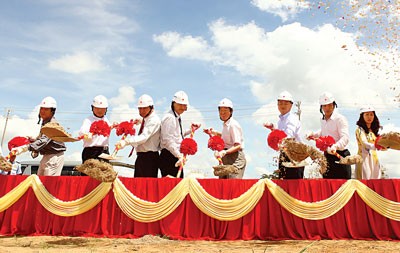 The groundbreaking ceremony of the zircon plant in Ba Ria-Vung Tau Province (Photo: SGGP)
This is the first foreign invested project at Cai Mep IZ and the first rare earth production plant in Vietnam, invested by Japanese Company VRec.
The zircon plant will be built over four hectares with total capital of VND1.03 billion (US$49 million) to process zircon ore to produce metasilicate and zirconium compound.
The plant is expected to come into operation after 12 months of construction. During the first phase, the plant will have capacity to produce 13,300 tons of zirconium oxychloride and 8,500 tons of Sodium metasilicate a year.
Zircon is used for production of refractory products, cell phones, televisions, spacecraft and racing car brakes. It is also material for the nuclear power industry.
Stating at the groundbreaking ceremony, Nguyen Van Khoi, director general of Saigon Construction Corporation, investor of the Cai Mep IZ, said that local authorities will simplify administrative procedures and create an attractive investment environment for investors in Ba Ria-Vung Tau Province and Cai Mep IZ.
The zircon plant will enjoy preferential tax policies with an income tax rate of only 20 percent within ten years when the plant begins operation. The tax rate will be 25 percent in following years.
In the first two years after earning profit, the plant will be exempt from business income tax. They will have to pay only 50 percent of the tax rate in the four following years. VRec will not have to pay import tariff.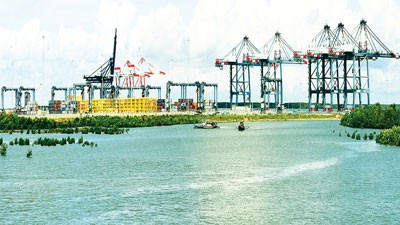 Cai Mep IZ is located near Cai Mep-Thi Vai deep sea port (Photo: SGGP)
The 670 hectare Cai Mep IZ is located near the Cai Mep-Thi Vai deep sea port which can receive vessels of 80,000 DWT. The distance is 80km between the IZ and Tan Son Nhat International Airport and 40km between the IZ and Long Thanh International Airport.
The southwestern part of the IZ is adjacent to Cai Mep and Thi Vai Rivers which connect with the sea.
Cai Mep IZ comprises a railway station on HCMC-Bien Hoa-Vung Tau route; sufficient electricity, water and telecom facilities and well-waste treatment system. The land rent is US$70 a square meter not including Value Added Tax.
There are ten investors who have leased land at Cai Mep IZ and VRec is the first foreign company here.
Mr. Sugii, director general of VRec, said that it is advantageous to access the Cai Mep IZ by road, waterway and airway and Ba Ria-Vung Tau is neighboring Binh Thuan Province, which has high amounts of rare earth. That is why VRec chose the Cai Mep IZ for their zircon plant.