An appeal trial of a massage parlor owner and his subordinates accused of enslaving their women employees concluded at the Ho Chi Minh City People's Court yesterday.
The appeals court in HCMC reduced the punishment for massage parlor owner Phan Cao Tri and his subordinates, convicted of enslaving their female employees.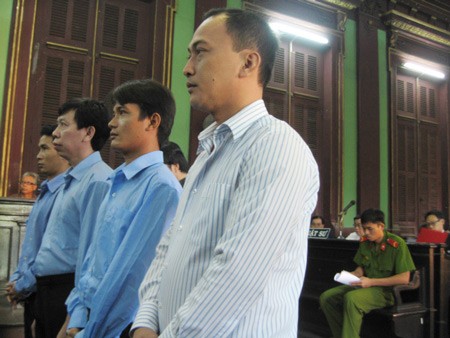 At the appeal trial of Tan Hoang Phat owner and his subordinates
Phan Cao Tri, 38, who owns 5 massage parlors and his employees Phan Viet Hau and Phan Quoc Cuong, charged of "illegally detaining people" and "appropriating property" were granted reduction from their original sentence of 12 years to 5 years.
Phan Thi Yen, Tri's wife, who was also charged with "appropriating property", received a suspended sentence of 3 years in jail and 5 years of house arrest by the appeals court.
Sentence of Phan Viet Hau, manager of Tan Hoang Phat who is also Yen's younger brother, was reduced from 10 years to 54 months in prison.
Meanwhile Nguyen Minh Phuong and Nguyen Hoai Nhanh, the manager and deputy manager of one of the five parlors, were charged with "illegally detaining people".
Phuong was imposed with an 18 month sentence instead of 36 months and Nhanh received 12 months instead of 24 months.
According to the police, Tri was recruiting women as masseuses for his five parlors in HCMC and the neighboring provinces of Dong Nai and Binh Duong since 2005.
He allegedly had guards to keep a watch on them to prevent them from escaping.
Not able to endure further suffering, some fled and reported their stories to the police. Following these complaints, the city Police raided Tan Hoang Phat and rescued 65 masseuses on December 6.
They also confiscated 2 pistols and 7 bullets allegedly used by Tri to threaten the women.
The appeals court said it reduced the sentences because the police was only able to identify one victim named Tran Ngoc Tinh, who was illegally detained by Phan Cao Tri and his accomplices.
Besides, only 8 employees have been identified as having paid Yen money to quit, the court said.
Most of the victims expressed their dissatisfaction with the appeals trial as they thought the sentences were too mild considering the crimes Tan Hoang Phat staff had committed.
The employees, many from poor rural areas, were forced not only to massage but also resort to sexual acts with customers for up to 16 hours a day. If they were found refusing to satisfy a customer, they were punished harshly and also faced deduction in their monthly salary.
They told reporters that anyone who wanted to quit had to pay VND15 million (US$ 770). Some who could not afford the money attempted to run away but were caught and beaten.
Anyone refusing to follow orders or about whom a customer complained would be beaten up or locked up without food in a dog cage.
The women had to sign a commitment that they would take only one leave in six months and that any breach of this regulation would mean a fine of VND24 million ($123).
Any masseuse getting pregnant from a clients would be beaten and fined and was forced to undertake an abortion.