Hanoi's consumer price index (CPI) in February increased by 1.98 percent over last month and 11.72 percent compared to the same period last year, the Hanoi Statistics Office (HSO) said.
Of the 11 consumption categories, only post and telecom services remained unchanged in comparison with last month.
The biggest price hikes in the month were seen in food and restaurant service staples (4.17 percent), including food (5.37 percent), followed by drinks and cigarettes group (2.25 percent).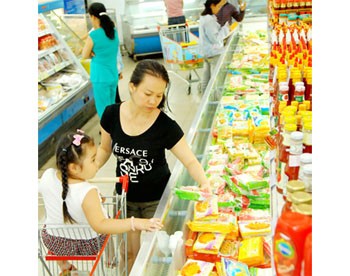 Customers in Co.op Mart on Cong Quynh Street, District1 in HCMC (Photo: SGGP)
Footwear and garment staples, tourism and recreation services increased by less than 1 percent.
According to HSO analysts, foodstuffs prices rose strongly in February as a result of high demand during the busiest season of the Lunar New Year festival.
During the month, the gold price fell by 0.7 percent but increased by 34.67 percent over the same period last year while the US dollar price rose slightly, by 0.74 percent month-on-month, and by 9.63 percent over the same period last year.
February's Consumer Price Index in Ho Chi Minh City climbed up by 1.61 percent month on month, showing an increase of 9.22 percent over the same period last year.
Drinks and cigarettes grew at 3.45 percent, and entertainment and tourism services at 2.58 percent.
Economists have blamed the recent rise in the price of fresh food on the high demand during the Lunar New Year Festival. They added that the recent post-Tet growth in CPI was still lower than the rate recorded in the same period last year, attributable to adequate preparations, especially the price stabilising programme, introduced by the HCM City administration.