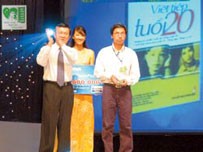 Mr. Truong Tan Sang from the Poliburo (L)awards the prize to an individual at the ceremony in Ho Chi Minh City Sunday
Ten individuals and groups were awarded the "20 Forever" prize in Ha Noi on Sunday for their contributions to science, culture, the military and society in general.
Thanks to the 20 Forever Fund and Viet Nam Television, each recipient is VND20 million richer today.
Hundreds of students attended the presentation, along with the families of the two martyrs and several government officials.
Addressing the award ceremony, Chairman of the Communist Party of Vietnam Central Committee Economic Commission Truong Tan Sang heaped praise on the winners and described their prizes as "a great honor".
The "20 Forever" prize gets its name from the war martyrs and diary-keepers Nguyen Van Thac and Dang Thuy Tram, who died at the age of 20.
Since their diaries were returned to Viet Nam and published in the newspaper Tuoi Tre last year, they have had a strong influence on young Vietnamese people.
Best of the best
Among Sunday's winners were Nguyen Thi Thu Ha, a student at Ha Noi Medical University who has won several scholarships and been top of her class throughout her six years of medical school.
Ha's ambition is to become a fertility specialist and bring joy to couples who might otherwise remain childless.
Another prize recipient was Nguyen Cong Hung, called the "IT Knight of 2005". Every day the successful director of a computer center must strive to overcome a congenital physical disability.
A third was Nguyen Tuan Anh, who studies at the Singapore National University. He won his prize for making the Yahoo! website readable to the large majority of Vietnamese internet users who know little if any English.