Compensation & Site Clearance Joint Stock Company based in Ho Chi Minh City's District 5 has drafted plans to knock down and rebuild Children's Hospital No 2 to international standards at a cost of VND3.2 trillion (US$178 million).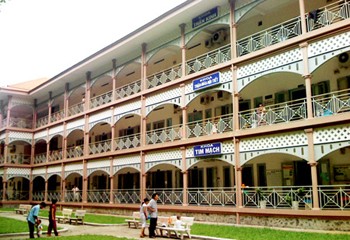 The new VND40 billion wing the HCMC Children's Hospital No 2 built in 2006. A plan to knock down this hospital and build anew is causing skepticism because city regulations do not allow it (Photo: SGGP)
But even before city authorities could consider them, the plans have attracted skepticism since they fly in the face of city regulations.
In 2007 the People's Committee, in a master plan on universities, colleges, vocational schools, and hospitals, decreed that hospitals cannot be built or upgraded within the city.
As a result, even some popular hospitals like Ear Nose and Throat, Oncology, and Binh Dan, which are gradually becoming dilapidated and overcrowded, have not been allowed to expand.
The People's Committee has, instead, envisaged building five giant hospitals with 1,000 beds each in suburban areas.
The new hospital the company plans to build will have 1,000 beds, the same number the existing facility has.
Besides, it built a new treatment area at a cost of VND40 billion only in 2006, and this too will almost certainly have to be demolished.
Some health officials point out that if the demand for pediatric medical facilities is very high a Children's Hospital No 3 could be built instead of rebuilding the existing one.