Following a recent SGGP report that fruits and jams imported from China could be tainted with lead, reports have surfaced that some vendors are deliberately deceiving customers into believing products are safe.
Several vendors have reportedly been discovered telling customers that certain food products have come from safe, local areas including the central city of Da Lat and capital Hanoi. The products are sold in unmarked bags without labels or proof of origin.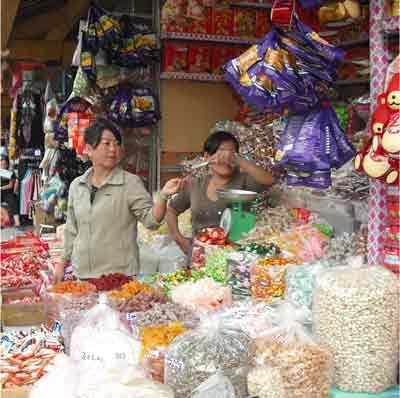 Most of sweets and dried fruits on sale in Binh Tay Market in district 6 are imported from China ( Photo: SGGP)
On October 13, Ho Chi Minh City health authorities seized samples of Chinese-made dried fruit and jam from the Binh Tay Market in District 6 to test for lead. They also seized 24 kg of dried plums from a shop that failed to produce receipts for them or certificates of hygiene and safety.

Vendors at Binh Tay Market say more people are showing a preference for certain types of dried fruit including plums and peaches, which are imported from China.
One vendor from the city's Xom Chieu market recently imported 10 kinds of dried plums, tangerines, and sweets from China, most contained in bags with Chinese labels only.
Customers who purchase imported food from the country's markets say they have good reason to be distrustful of products' safety and origin in the wake of previous scandals involving melamine-tainted food from China and continual warnings from world health agencies. 
Deputy director of Bibica Corporation, Phan Van Thien, said he was worried about the health of customers alleging some vendors were known to blend domestic food with imported products.

To protect Vietnamese customers, health agencies should test products and announce the results publicly, Thien added.
Ung Thi Ngoc Hien, a vendor in HCM City's Binh Tay Market, said health agencies should strictly supervise imported goods at border gates in a bid to protect people's health and weed out unscrupulous traders.
Related article:
Health authorities to test Chinese-made jams, dried fruits for lead