Custom officials at Tan Son Nhat International Airport in Ho Chi Minh City caught a 27-year-old Chinese man boarding flight CZ368 to Guangzhou in China on Tuesday with an undeclared amount of US$45,000.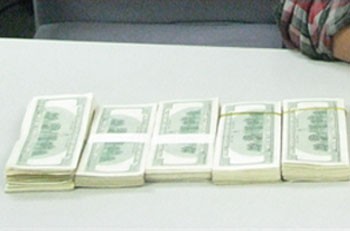 The US dollars seized from a passenger at Tan Son Nhat International Airport on Tuesday (Source: VOV)
Airport custom officials suspected that Guo Zhi, the Chinese gentleman was carrying excessive cash in his hand-luggage and on checking his bag, found US$45,000 in his possession. Upon asking him for bank papers for the amount, Guo Zhi was unable to present valid bank transaction papers.
Officials hence returned him $5,000, the permissible amount allowed under Vietnamese regulations, and temporarily held back $40,000.