A recent inspection of transformer stations in Ho Chi Minh City has uncovered more alarming safety violations. Inspectors from the city's Department of Industry and Trade carried out the study on October 20.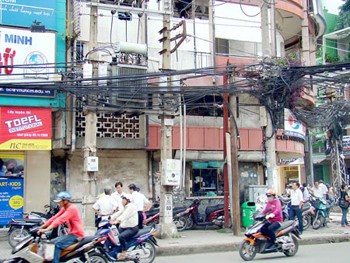 A house located precariously close to a transformer station on Cao Thang Street, District 3, HCMC (Photo: SGGP)
One transformer station located in front of the Phong Lan Hotel on Thai Van Lung Street in District 1, was found almost entirely covered by the hotel's ornamental plants.
Inspectors wrote up a report citing the violation, but a follow-up check revealed that no action had been taken to clear the area in front of the transformer.
Since 2007, the hotel has had four reports issued on its transformer safety violations.
Another house near the crossroads of Dien Bien Phu and Cao Thang streets in the city's District 3, was found located just half a meter from a transformer station.
Saigon Power Company's technical department head, Nguyen Ngoc An, said the minimum safe distance for a house from such high-voltage works is two meters. In wet conditions, medium- to high-voltage electric currents can cause electric discharge within half a meter. This discharge can cause fire or electrocution.
According to the head of the inspection delegation, Phan Thanh Tuan, inspectors have issued numerous reports on similar situations around the city.
Following the latest inspection, they will submit a report to authorities and propose solutions to handle violations.
The HCMC Power Company announced on October 20 that a new 24-hour hotline [(08) 2230 2230] would be available for residents to report electrical safety violations.