At a grand opening in Ho Chi Minh City on August 4, the Embassy of Denmark in Vietnam and the Danish Vietnamese Jewelry Company (DVJ) will introduce their new Autumn-Winter and Spring-Summer jewelry collections.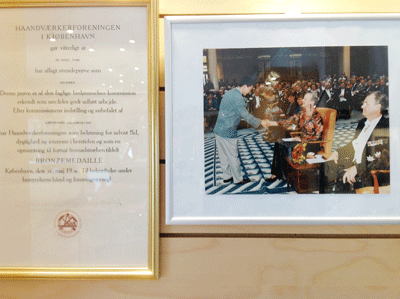 Tram Phuoc An receives an award from the Danish Queen in 1996 (Photo: Courtesy of Dan Viet)
DVJ is a newly established joint venture between the Danish Company AABYBRO Gold & Silver and Vietnamese Nhu Lam Jewelry Company.
AABYBRO was established in 2001, and the owner of the company is a Vietnamese goldsmith named An Tram who graduated from 'Københavns Tekniske Skole' in 1996, and in the same year he received an award from the Danish Queen at Københavns.
An Tram has now returned to Vietnam with a dream to transfer the skills and technology he has learnt in Denmark into a promising and lucrative business in cooperation with the well-known Vietnamese Nhu Lam Jewellery Company, which was established in 1999.
DVJ has developed and is now entering the Vietnamese market with a large selection of high-quality jewelry items.  DVJ's new jewelry collections are inspired by the magnificence of nature, in all its colors and glory, and symbolizes the transition and changes in the four seasons. The liveliness of spring, the vibrant colours of summer, the calm of autumn and the winter cold, are beautifully portrayed in the collections.
Nature is represented in designs of flowers, plants, insects, animals and water, emphasizing beautiful details such as flower petals, peacock feathers, roots and morning dew. Drop-shaped beads and stones, which are a characteristic feature in Danish jewelry designs, surrounded by round, soft shapes of silver and gold make the new collections feminine and alluring. 
DVJ is one among hundreds of partnerships supported by the Danida Business Partnership Programme, with the objective to transfer knowledge and technology as well as to improve the working environment in creative projects.