(SGGPO).- Retired football star David Beckham yesterday arrived at Tan Son Nhat International Airport in Ho Chi Minh City which is the last stop of their visit to Vietnam for promoting his personal drink brand.
Earlier, his personal special aircraft was late because of a technical problem so the media and fans had to wait for the star and his co-workers for 30 minutes.
Thousands of people including fans and local reporters waited for Beckham at the airport in order to welcome him, catch photos, videos, ask for Beckham's signatures and pose photos with him.
In order to protect Beckham from paparazzi, tens of cars were laid down in front of the VIP gate before the 39 years old football player went out from the airport. Thus, most of photographers, reporters could not predict exactly when and where David Beckham appeared.
Two students from University of Social Sciences and Humanity said that although they lived in Thu Duc suburban district of Thu Duc, they took bus to the airport early to collect the British footballer' signature.
We constantly have read his Facebook, followed his schedule, personal images and information which Beckham often updates for his trip to Vietnam and we are so happy to meet our idol, they said.

Last night, David Beckham and his co-workers came to Romeo & Juliet (R&J) Italian Restaurant in Times Square building to talk with reporters. Although entrances to the building were carpeted to welcome Beckham and delegates, Beckham chose a dark entrance to avoid paparazzi.
At the meeting, David Beckham said that this was the third trip he came back Vietnam since an event held by Castrol in 2003 and the World Cup in 2005.
Today Vietnam, in general, and two cities Hanoi and Ho Chi Minh City in particular, has many changes and it is fast developing but only hospitality of the Vietnamese people has not changed, said Beckham.
On this occasion, David Beckham also sent thank to Vietnamese fans for their warm welcome.
Referring to the Vietnamese foods, Beckham said that he was attracted by Vietnamese dishes, especially, roadside dishes and expressed he hoped to have further opportunity to enjoy Vietnamese foods again.
Although Beckham has ever travelled for football matches in many countries around the world, he has still valued Vietnam's rich traditional, cultural beauties with an impressive history.
According to his schedule, David Beckham will meet with Vietnam's showbiz people at a bar club tonight before flying to Malaysia to continue the campaign for his drinking brand.
Here are some photos of Beckham at the meeting with the media in Times Square building: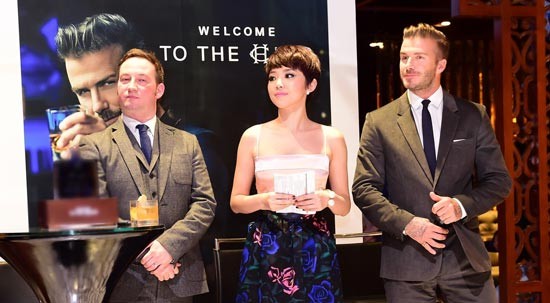 Beckham and singer Toc Tien talk with reporters at the Italian restaurant in Time Square building (Photo: courtesy of David Beckham)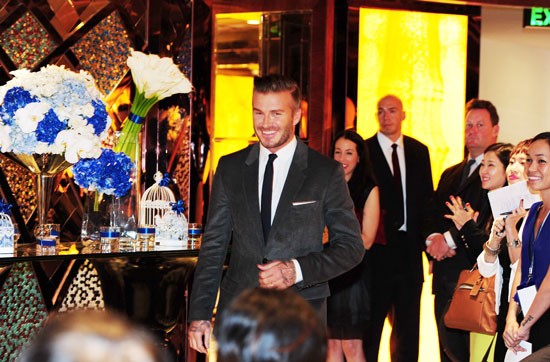 Beckham at the event last night (Photo: Courtesy of David Beckham )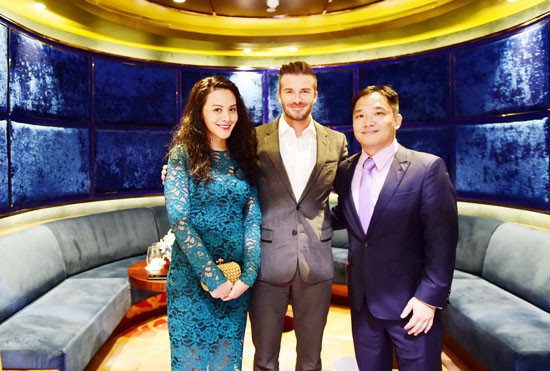 David Beckham and businessmen at the event last night (Photo: Courtesy of David Beckham)