After taking part in an inspection tour of District 10 on Wednesday, Ho Chi Minh City Party Chief Le Thanh Hai urged officials there to work with the Department of Construction to renovate 37 apartment blocks at high risk of collapsing.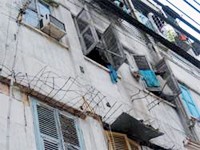 A degraded apartment block in Ho Chi Minh City

The buildings, which contain some 5,300 flats, were built over 30 years ago.
 
The Department of Construction will be tasked with acting as an advisor for the People's Committee to determine what needs to be done to the flats to return them to a habitable state and report their findings to the committee by the end of May.
 
Complicated bureaucratic red tape, meanwhile, is a major obstacle to the development of new construction projects in the area with administrative procedures taking up to three years to be completed.
 
"At that rate, it would take 10 to 15 years to develop housing in the area for residents currently living in those run-down apartment buildings", said Mr. Le Thanh Hai.
 
The Party Chief has agreed with the HCMC People's Committee to give the district an interest-free loan worth VND242 billion within the next two years to begin construction of new housing facilities there.
 
He also asked district officials to recruit more workers for the District's Public Service Company and the Project Management Unit in order to get the work done faster.