Many questions were put forward to the five directors of the HCMC departments of Traffic and Public Works, Health, Construction, Natural Resources and Environment, and Planning and Architecture at yesterdays meeting of the city council. However, most of their answers failed to satisfy the deputies.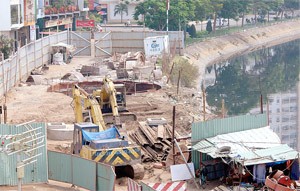 The slow-paced project in Nhieu Loc canal causes many troubles to the inhabitants

At the beginning of the meeting, Director of the Department of Traffic and Public Works Tran Quang Phuong was asked to explain briefly why some key traffic works have been progressing so slowly.
 
In reply, he said that prolonged site clearance and inconsistent relocation of infrastructural works like water and power supply were the reason for the delays.

Unreasonable compensation prices and limited numbers of resettlement houses have also lead to difficulties in site clearance, he added.
 
The majority of deputies failed to agree with him, saying that the city's relevant departments and agencies must take the blame for the slow pace of projects, and that such bodies have not worked hard enough to finish key projects.
 
Many of the deputies also showed their discontent at the slow pace of the major drainage projects in Nhieu Loc-Thi Nghe, Hang Bang and Tan Hoa-Lo Gom.

When questioning the director of the Department of Planning and Architecture, Deputy Dang Van Khoa said that the Director should listen to the complaints made by over 2,000 households living in the Binh Quoi-Thanh Da peninsula.
Over the past 10 years, the area's citizens have lost their property ownership to the government, are not allowed to repair their degrading houses and yet the houses that were due to be built on the land have not even been granted building permission, according to Mr. Khoa. 
 
In reply, the department's director said that there are plans in place to finish the planning of this peninsula within five years.
 
Meanwhile, the director of the Construction Department had to answer many questions about the resettlement of the city's relocated residents. A number of deputies queried as to why six districts have not yet arranged resettlement for their residents.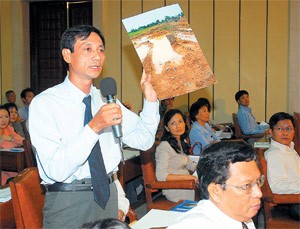 Deputy Dang Van Khoa questions the director of the Construction Department, showing a photo of a resettlement area in Binh Thanh District 
Deputy Dang Van Khoa showed a photo of a resettlement area where 15 households have been moved to an area of Binh Thanh District with no power, no water pipes and no roads, "Did you say you had checked all resettlement areas in the city?" he asked the director.
 
The Director of the Department of Natural Resources and Environment, Tran The Ngoc, was questioned about the levels of pollution in some of the city's canals and dumps, and the relocation of 141 polluting companies in the city.
 
He confirmed that the department is continuing its efforts to deal with those issues.
 
At the meeting, the Director of the Health Department, Nguyen The Dung, delivered a report on food hygiene, including the recent soy sauce scandal.
 
He then answered questions regarding the department's tardiness in publicizing information about the toxic content of soy sauce and the names of violating producers, and his responsibilities for such issues.
 
In response he merely stated, "I was not informed of that!" 

Related articles:
Resettlement, School Tuition Fees and Food Hygiene Top the Agenda
City Council Convenes