Deputy Prime Minister Hoang Trung Hai urged Ho Chi Minh City to train operating and repair engineers for the first metro route Ben Thanh-Suoi Tien during his inspection of the work's construction site on Thursday.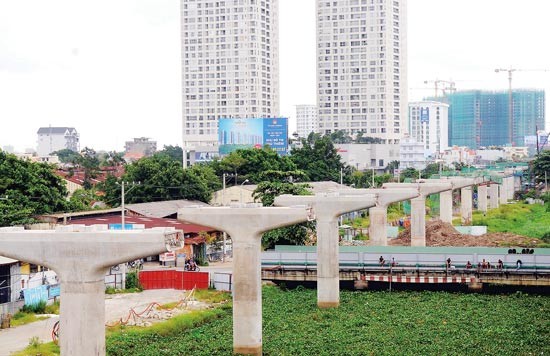 Piers on the construction site of the first metro route Ben Thanh-Suoi Tien along Hanoi Highway (Photo: SGGP)
Briefly reporting construction progress of a depot at the Opera House, director of HCMC Urban Railways Management Authority Bui Xuan Cuong said that it was expected to complete by the end of this year to return road face for traffic.
At the site, Deputy Prime Minister Hoang Trung Hai underlined technical norms, design and safety of the project.
The Ministry of Transport was asked to work with other ministries and the Japan International Cooperation Agency on a code of common standards for the project in accordance with international standards.
Ben Thanh-Suoi Tien metro route is a significant and strategic project of HCMC, he said.
Despite of many difficulties, the project has been on schedule, however, disbursement progress is low so the Ministry of Finance should quickly solve this issue, he added.
Designing of the project should anticipate climate change impacts, he noted.
He asked the HCMC People's Committee to instruct contractors and government agencies to speed up construction progress and build the project by the end of 2019 or early 2020.
In addition, the HCMC Urban Railways Management Board also reported the progress of metro lines no.2 and 5 and proposed to the Deputy PM issues in need of clearance.
Specifically, these lines' design changes have slowed down construction progress and rocketed up total investment capital.
Mr. Hai instructed HCMC to fully prepare documents on adjusted designs to report the National Assembly in the next session.
The Prime Minister has approved project file for the first phase of the fifth metro route, from Bay Hien Crossroads to Saigon Bridge.
He has instructed the Ministry of Planning and Investment to support HCMC on technical assistances over the fifth metro line from the South Korean Government.
The metro project in HCMC is one of the priority projects financed with official development assistance loans in the phase 2016-2020.