Quang Trung Software City (QTSC) should concentrate more on localizing software products, increasing research, training IT staff, the Deputy Prime Minister and Minister of Education, Nguyen Thien Nhan, said March 16.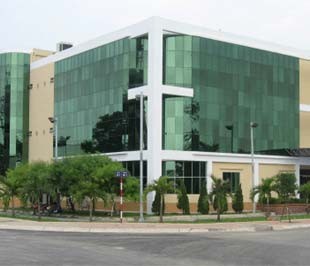 A corner of Quang Trung Software Park in District 12, HCM City. Deputy PM Nguyen Thien Nhan visited the Quang Trung Development Co. and said it should focus on increasing research and IT training. (Photo: VnEconomy)
The Deputy PM, and permanent deputy chairman of the Ho Chi Minh City People's Committee, visited businesses at QTSC, District 12.
QTSC achievements have helped change the former fair and exhibition area to become a leading software park in the country.
"The company's success in the last eight years is just the first step", Mr Nhan said
"QTSC management should design plans with a vision until 2015", he added.
Chu Tien Dung, QTSC's manager, said that since 2001, QTSC has attracted 104 domestic and foreign businesses to setup in the park, with a total investment of $60 million, 3,500 engineers and experts, train 9,000 IT students.
Fifty-four companies from the Netherlands, UK, US, Japan, Thailand and Switzerland have also invested in the park.
QTSC has improved its economic effectiveness and has met the city's goal to diversify and modernize the economy, with a productivity of $3.6 million per hectare and revenue of $15 million per hectare a year.
The international consultant organizations estimate QTSC is the fourth most prominent IT brand, out of 200, in Vietnam.