Deputy Minister of Transport led a delegation from the ministry to work with Tan Son Nhat International Airport and authorized agencies in HCMC, discussing solutions to reduce traffic jam in areas surrounding the airport in the Tet festival on January 11.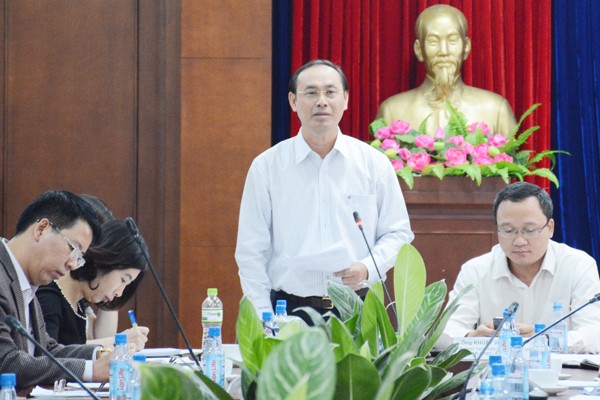 Deputy Minister of Transport Le Dinh Tho states at the meeting with Tan Son Nhat International Airport about measures to reduce traffic jam in the airport area in the coming Tet festival on January 11 (Photo: SGGP)
At the meeting, director of Southern Airports Authority Tran Doan Mau forecast that passenger output and flight frequency would increase 19.6 percent over the previous Tet festival.
 
Flights will hike 141 to 776 during rush time on the 27th and 28th day of the 12th lunar month with the number of passengers through Tan Son Nhat Airport to near 113,000.
 
Mr. Mau proposed the city Police Department to review traffic in areas near the airport and solve rampant parking along streets to reduce traffic jam.

Director of Tan Son Nhat Airport Dang Tuan Tu reported that traffic jam has occurred from 10 a.m.- 12 p.m. and 4 p.m.- 6 p.m. everyday because of limited traffic infrastructure and highly increase in the volume of vehicles to the airport not aviation growth.
 
In short term, he proposed to remove the tree divider in Tan Quoc Hoan street and the road from Phan Thuc Duyen street to Lang Cha Ca roundabout to broaden road area for vehicles to travel.
 
He suggested police force to supplement traffic regulation at not only streets near the airport but also farer roads such as Hoang Van Thu-Nguyen Van Troi, Tran Quoc Hoan-Phan Thuc Duyen and Lang Cha Ca roundabout.
 
According to director of the Department of Transport Bui Xuan Cuong, Urban Traffic Management Zone 1 is now removing the tree divider in Tran Quoc Hoan street.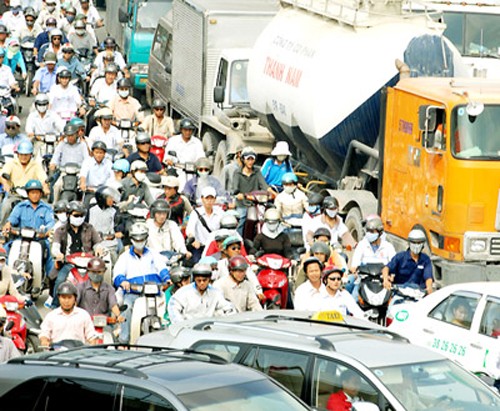 Traffic jam in a street near Tan Son Nhat Airport (Photo: SGGP)
The agency, Southern Airports Authority and HCMC Police Department have set up an inter-agency mission to carry out measures to ease traffic jam at entrance spots to Tan Son Nhat Airport since December 29. Over 40,000 automobiles are travelling in and out these areas a day.
 
Mr. Cuong proposed to stop the operation of a taxi parking lot in the land pierce at 58 Truong Son street because it has been one of reasons for traffic jam in front of the airport. The parking lot belongs to Vietnam Flight Management Corporation.
 
Deputy Head of the Traffic Police Bureau C67 Tran Thanh Tra suggested the city police to work with the Department of Transport to solve the above problems and should not blame each other.
 
Representatives from airlines want to open full-body scanners at airport checkpoints two hours before flying time to reduce congestion, increase pickup and return counters and supplement scanners to better serve passengers.