While health officials say the recent spate of cholera cases in Ho Chi Minh City have been attributed to contaminated food served by street vendors, most residents continue to eat from such make-shift eateries.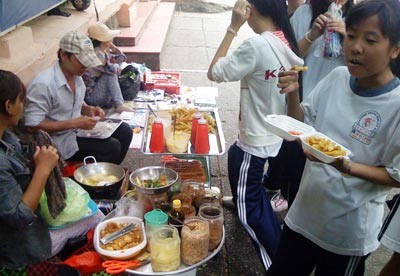 Students eat food prepared by roadside vendors in front of Le Quy Don Junior High School in HCMC. Despite a recent outbreak of cholera, most students and residents continue to eat from the generally unhygienic eateries ( Photo: SGGP)
Roadside food stalls are especially abundant in front of city schools, and in the past few weeks at least two students, one in junior high and one in university, contracted the illness after eating food prepared by street vendors near their schools.
Cholera, spread by bacteria in contaminated food and water, can be fatal if left untreated as it causes acute diarrhea and vomiting.
When schools let out, huge crowds of young people descend upon the street eateries, ordering everything from shrimp soup to dried buffalo meat, all prepared on the spot and usually in unhygienic conditions.
Street vendors prepare food with their bare hands, almost never using gloves and potentially contaminating the meals being served. 
A motorbike taxi driver in front of one school in the city's District 3 said he knew of three students from the school who had suffered food poisoning after eating from sidewalk eateries in the area.
Dr. Pham Thi Ngoc Tuyet, head of the Digestive Department at the city's Children Hospital II, said the hospital had seen an influx of severe diarrhea cases in the past few weeks. Most were students who reported eating food served by street vendors in front of their schools.
The issue of unhygienic food served at street stalls, especially in front of schools, has plagued the city for years, but the local Department of Health says that cracking down on the problem is easier said than done.
Dr. Phan Van Nghiem from the health department said the Government needs to impose stiffer penalties on roadside food vendors and in the meantime, schools should teach students about food health and safety.