The city has decided to curb the rise in the cost of living by maintaining some basic fees at current levels, including tuition, hospital fees and toll fees and transport fares. The city will also pay farmers VND1 trillion to boost production.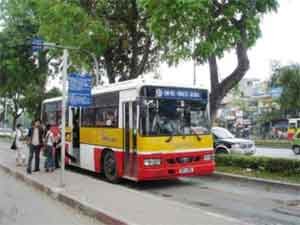 Some basic fees inluding bus fares will remain unchanged until September
City leaders announced that medical examination and treatment fees, water fees, bus and ferry boat fares, toll fees and registration fees for automobiles and motorbikes will remain unchanged until September.

The city will budget VND1 trillion to support agricultural activities. These funds will be used to help farmers boost their production and to help distribute and market produce. Ineffective agricultural projects and those that lag behind schedule will be eliminated.

The city directed subsidized agencies and organizations to cut operating costs by 10 percent, or VND90 billion, and energy costs by 10 percent.

Public servants are encouraged to contribute one day's pay to the city's hunger eradication fund and to a fund to help the poor.