Experts believe that Ho Chi Minh City must make more determined and concerted efforts to synchronize projects to save its canals and rivers which have been stifled with alluvial soil and garbage.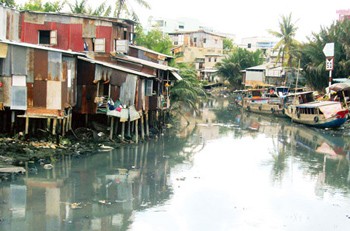 Houses jut into a canal in Binh Thanh District, HCMC (Photo: SGGP)
According to Professor Le Huy Ba, head of the Institute of Science, Technology and Environment Management, the city has implemented some projects to dredge canals and rivers but they have not been well synchronized so as to show effective results.
While dredging the main river bed, surrounding canals and tributaries were overlooked. Besides, after dredging the river bed, the slush was collected on the banks which flowed back into the river during a rainfall.
Besides dredging and cleaning projects, Ba proposed that the city and district authorities must compel residents to stop littering the canals and rivers.
Relevant authorities should establish units to monitor people from dumping garbage in the water. Those doing so intentionally must be heavily penalized. 
Ba believes HCMC needs a stern commander-in-chief and close coordination between departments and district authorities.
Another expert said the city should work with relevant departments to bring anti-litter awareness to schools. The city should also build more parks and plant more trees along both banks of the rivers and canals.
Related articles:
Extensively river encroachment in HCMC
Garbage chokes city canals, rivers