Nguyen Trung Tin, Vice President of the HCMC People's Committee officially launched a competing program yesterday named "Developing Countryside Together" so that this job can be carried out synchronously, entirely and practically in the whole city.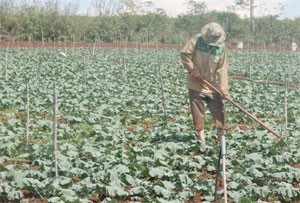 A vegetable farmer is farming on his land in Cu Chi District in HCMC (Photo:Minh Tri)
As planned, 28 communes are expected to meet the criterion until 2015, according to Le Thanh Liem, Director of Department of Agriculture and Rural Development. Among them, Tan Thong Hoi commune, Cu Chi District, perfectly accomplishes the "new countryside" criterion in 2011.
In 2012, five communes in HCMC certified in accomplishing the "new countryside" criterion will be Tan Nhut of Binh Chanh, Ly Nhon of Can Gio, Xuan Thoi Thuong of Hoc Mon, Nhon Duc of Nha Be and Thai My of Cu Chi. Until 2020, this honor is presumed to be given to all the communes.
The communes plan to decrease the density of agriculture and increase that of industry, service, apply biotechnology and high technology into agriculture. Average manufacturing value is expected to reach 300 million per hectares in 2020.  
In the mobilization, Le Thanh Hai, Secretary of Ho Chi Minh City's Party Committee emphasized that two years of practicing have affirmed the necessity of building the "new countryside" criterion.
This policy of the government is very conformable to the desire of the resident. Therefore, the Command of this "new countryside" program and the local authority should direct and widely propagandize it.
The program would be in the direction that the Government balances the investment budget, builds infrastructure, and improves the personnel. In order to do so, the authority should multiply the method of Tan Thong Hoi ward, Cu Chi District.
The target of the program is until 2015, beside 28 wards that already have developed this "new countryside" program, the other five towns in the outskirts would all had it in the soonest time.