A project for developing an electrical system in twelve districts of Ho Chi Minh City has just been announced by local authorities. To find out the purposes and the effects of this project, Sai Gon Giai Phong Newspaper conducted an interview with Mr. Pham Quoc Bao, deputy director of the HCMC Electricity Company.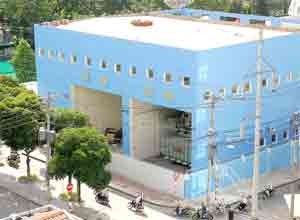 HCMC Electricity Company builds up Tan Dinh Electrical Station 
SGGP: What is this project for? Why does it need to be carried out? And do you think it will be expanded to all the remaining districts?
Pham Quoc Bao: This project is the continuing stage of the city's developing electric project for the term of 2002-2010 signed by the Prime Minister. It aims to provide enough electricity to all consumers in the city.
The HCMC People's Committee is planning, step by step, to complete this project in all 24 districts. So far VND 3,860 billion has been approved to spend on the grid for 15 districts.
SGGP: Can your company finish such a big project with just three years remaining?
Pham Quoc Bao: This project is for 24 districts all over the city and the investments depend on the customers' needs. In order to save expenditures, our plan has been carried out annually with suitable changes in local development.
SGGP: What is your company planning to do for next year's step?
Pham Quoc Bao: We are going to cooperate with the local electricity departments to estimate the residents' needs, then carry out the available construction plans.
Moreover, we will continue moving the electric wire grid underground.
SGGP: What are the advantages and disadvantages you face in conducting this project?
Pham Quoc Bao: The project has been passed by the city authorities to give my company a chance to begin construction early. But we also find difficulties in the lack of investment money. To solve the problem, my company suggests some solutions such as using part of the funds from selling electricity, or taking out a low interest bank loan.
We also need local help for clearing the ground and creating space for construction. In addition, the long-term project in several areas and streets has not been finished yet, causing some confusing in our work.
SGGP: Will your company provide enough electricity for HCMC with this project?
Pham Quoc Bao: According to the project, in 2010 each consumer will be allowed to use 2,500 kWh. To reach this goal, we will upgrade the current lines and use up-to-date technology in the new system in order to meet society's needs.
SGGP: Thank you, sir.