Heavy rains Saturday evening partly broke a dike embankment in Ho Chi Minh City, enabling untreated wastewater to flush downstream damaging vegetable crops and houses nearby.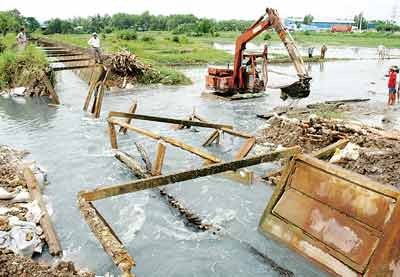 Workers repairing the Ba Bo Canal
A 50-60m section of the Ba Bo Canal broke apart in Thu Duc district, causing wastewater to encroach onto spinach fields.

The HCMC Irrigation Management Company immediately assigned workers to fix the damages.

In other areas in district 9, especially on the Long Thuan Street near Truong Phuoc Bridge, rising water still caused some serious damages, resulting in several big and deep pools and holes on the street, partially obstructing traffic.

At 9pm on Sunday, resident Vo Hai Son, aged 18, fell into a hole senseless while riding on this street. Since the street is quite desolate and dark, he was not rescued until two hours later and was rushed to the Eastern Army and People Hospital for treatment.

According to local residents, Long Thuan Street built by the Project Management Board No.9 and the Cao Nguyen Company has been in use since late 2007. However, there have been many landslides and collapses on the street.

Relevant offices have yet to make any concrete action to prevent more damages in the future, such as setting up alert signals or roadblocks.