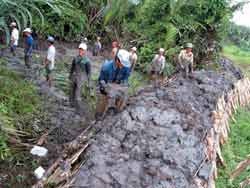 A section of dike in District 12 of Ho Chi Minh City is being repaired.
Standing Deputy Chairman of the Ho Chi Minh City People's Committee Nguyen Thien Nhan recently issued an instruction to speed up storm and flood prevention activities within the city.
Accordingly, the construction works in districts where there are important dykes and irrigation works, including 7, 12, Binh Thanh, Thu Duc, Nha Be, Binh Chanh and Hoc Mon, must be rechecked, repaired and upgraded before the storm season.
Also, activities must be carried out to cope with possible land erosion in areas which have historical and cultural treasures, ports and other landing stages on riverside and important canals.
As regards projects on dykes, irrigation works and water drainage systems in inner Ho Chi Minh City and the countryside, the deputy chairman also asked investors to ensure the rate of their construction progress as planned.
Besides, the concerning authorities of various districts must work out detailed plans for storm and flood prevention and search-and-rescue measures in case of these disasters in order to minimize losses and casualties caused by natural calamities.