The heads of district authorities will be held responsible for failing to prevent any unexpected rise in prices of goods that leads to market instability, deputy chairperson of the Ho Chi Minh City People's Committee, Nguyen Thi Hong, has said.
She made the statement during a recent talk with SGGP about the situation of consumer prices, in which a number of supermarkets have said they would have to increase prices of 300-500 commodities to offset increased input costs.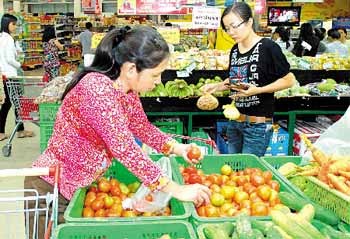 Shoppers at a Co.op Mart supermarket on Cong Quynh St., HCM City (Photo: SGGP)
Some mass media recently forecast the prices of many commodities would increase by 3-12 percent, but in fact, prices have remained stable, even slightly declining from July, Ms. Hong said.
"The recent increase in the price of USD against VND may put more cost burdens on businesses, but in consideration of the current consumer spending climate, it is hard for producers and traders of goods to raise prices. They will have to seek solutions to maintain prices to keep consumer spending from declining. Moreover, the annual sales promotion programs are about to start, so an increase in prices is nearly impossible," she commented.
However, she said, the city authorities could not force businesses not to raise prices in case their input costs increases and eats away their profit margins. The issue here is that by how much – and for which commodities – prices should be increased.
An increase in prices of goods, if any, may be seen only in commodities depending on imported materials, she added. 
Regarding essential commodities, including rice, sugar, cooking oil, meat, eggs, processed food and vegetables, she said the prices of these items would be kept unchanged until March 2011 according to the city's price stabilization program, which has been implemented for the past two months.
She emphasized that the city authorities have asked all relevant agencies and districts governments to set up and implement their plans for controlling and stabilizing market prices from now until the year-end.
She said she had ordered the city Department of Agriculture and Rural Development to boost the development the city's pig herds in order to ensure a stable supply of pork at reasonable prices, minimizing impacts of the ongoing blue-ear pig epidemic.
Because of the epidemic, many consumers have turned to consume poultry meat as a replacement for pork, making the price of poultry products increase. To cope with the situation, Ms. Hong said the city government has asked some providers of poultry to deliver their products directly to consumers in areas where the price of poultry products is on the rise.
Regarding the progress of the city's price stabilization program, Ms. Hong said VND223 billion (US$14.4 million) had been disbursed from the total VND380 billion earmarked the program. Currently, the number of outlets that provide goods under the program has amounted to 2,085, she said.
The city will set up kiosks near industrial parks and export processing zones and in remote areas to provide the program's goods to consumers, she added.