Authorities in districts in Ho Chi Minh City are determined to bring a happy and warm Tet (Lunar New Year) for poor households.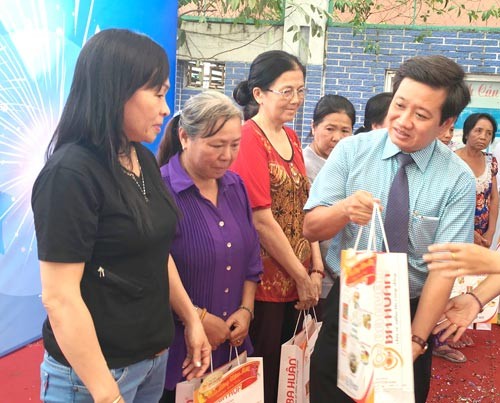 Representative of district 1 adminsitration gives gifts to poor people in the district (Photo: SGGP)
The husband of Ms. Tran Ngoc Tuyet is disable worker due to spinal degeneration and her three children are students, Tuyet, an assistant for parties, is the family's bread winner yet her income is low and her work is not stable. She was so happy when she was told that her family will receive VND950,000 (US$42.6) from the city's budget and gifts from local authority.
Tuyet said that though the gift and cash are not much, it showed the local government's love to poor people. Tuyet family is one of hundreds of poor families in Tan Phu District which received the authority's care on occasion of Tet.

As per the city's guideline, Tan Phu district allocated over VND15 billion (US$672,826) for 14,725 gifts including necessities and cash for families who served in the nation's revolution; beneficiaries of social policies, elderly people and poverty households.
Additionally, the district supported more 9,500 gifts worth VND4.3 billion (US$192,868) for families in the top welfare brackets or those who served in the nation's revolution and disabled people.

Moreover, with the goal "A Happy Tet atmosphere covers every people and house", the district fund for the poor gave gifts each worth VND500,000 (US$22.4) to 630 families whose economy condition is close to the poverty line each worth VND400,000; 332 disabled workers who stay in HCMC to welcome Tet, members of Women Union and low income staffs of the Red Cross Society.

Similarly, district 10 determined to support all households, ensuring a happy Tet. Accordingly, the district allotted VND24 billion (US$1,076,476) for taking care of social policy beneficiaries and people partaking in the nation's revolution. In addition, 936 poor households in the district received gifts each VND950,000 taken from the state budget.
Moreover, the district administrators encouraged benefactors and other sources to give gifts to poor people in the district with expectation that all households in the district will enjoy a better Lunar New Year. 500 families whose close to the poverty line & capita income is from VND21-24 million a year were given gifts each worth VND400.000 - 500.000 (US$22.4)

Binh Thanh District authority also ensured to support gifts to 1,890 poor households whose capita income of VND16 million per year. Each gifts is worth VND850,000. Along with this, wards administrations also presented gifts each worth VND500,000 to close-to-poverty-line families whose capita income over VND21-28 million a year.
Also, the district paid special attention to poor ethnic minority people in the district; accordingly, the district with the Race Board HCMC held a get-together to send the wishes to 187 ethnic minority households.

Administrations of district 6 took care of households who had to remove to other place for the project of dredging Tan Hoa-Lo Gom canal. Representatives from district government and the Fatherland Front Committee visited these families and gave gifts to them. For these households whose house walls were cracked due to construction of canal each were supported VND1 million.

Binh Thanh District and in co-ordination with enterprise association and MTV Home Credit Company granted 800 gifts to poor inhabitants.
For years, district 1 liaising with SaiGon Co.op supermarket chains and ba Huan Company organized stores to sell subsidized commodities to share burden with residents in the Lunar New Year ahead.