Ho Chi Minh City is developing future public transport, such as metros, tramcars, and overpass trams, which will come about only in the next five or six years, but currently the buses still plying the City streets are in poor and downgraded condition.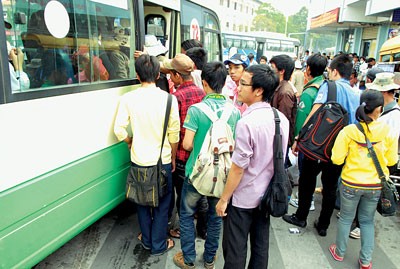 Passengers line up for buses in rush hour. (Photo: SGGP)
When building a bus network, the City aimed to make it a foundation for sustainable public transport, to encourage people to use buses to reduce traffic congestion, protect the environment, and create an organized and civic urban lifestyle. However, the current bus network has not been able to meet these expectations.
In past years, when payrolls have increased sharply, bus fares have only slightly gone up and hence profits have been marginal, with even some losses for firms associated with bus transportation. Therefore, lack of maintenance of buses has seen their present downgraded condition.
Ho Chi Minh City is known as the most modern city in the country, but on the streets, rickety buses still ply. It is easy to find buses with broken bodies, missing lights, flaked off paint, ragged seats, broken windows, no air conditioning, jammed doors, and black exhaust smoke belching out.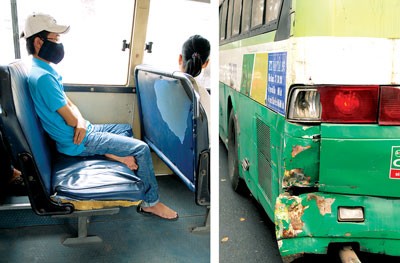 Buses with ragged seats (L) and broken parts (R) still ply in the streets. (Photo: SGGP)
Several buses make a harsh grinding sound on bumpy roads, for instance, buses run on routes between Mien Dong Bus Station-Mien Tay Bus Station; Cho Lon-Cu Chi; Cho Lon-Mien Dong Bus Station; Saigon-Nha Be; Saigon-Thoi An; and District 8-Binh Chanh District.
Some bus drivers said that bus services will become more worrisome in the next few years as most buses have started to break down quite frequently. Firms have been using their savings for other expenditures; hence will not have funds to buy new vehicles when their vehicles reach expiry date this year or next year.
According to Phung Dang Hai, CEO of City Transportation Cooperative Union, they have nearly 1,000 buses with most being in use since 2002. Most buses have downgraded and will need repair urgently. Funds for upgrading buses were affected by the fuel price rise and of that of spare parts. For the bus fleet to operate efficiently, buses need major repairs every three or four years at a cost of about VND380 million per vehicle.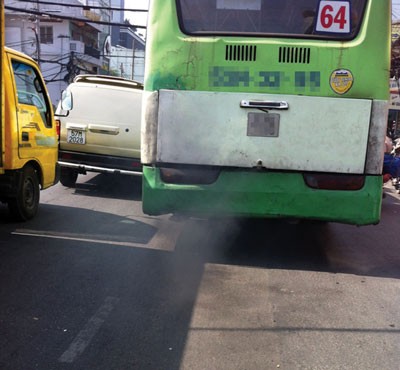 Downgraded engine causes buses to belch out black exhaust smoke. (Photo: SGGP)
In 2002, when Ho Chi Minh City had just started the bus service there were 587 buses, with most vehicles now past their expiry date. In later years, the number of buses increased to 2,434. These too need upgrading or replacing.
During the period 2011-2015, the City Department of Transportation plans to buy 1,680 new buses at a total cost of nearly VND2 trillion. Of which, the City will help firms pay 30 percent, and the rest 70 percent will come from bank loans, payable over a seven year period, with the City covering interest on their loans at a fixed rate of 6.48 percent. If bank interest rate is higher than 6.48 percent, the interest rate difference will be responsibility of the firm.
However, this proposal has been received poor response from bus companies as bank interest rate remains high while their current 15-year-lifespan buses have just been used for only 7-8 years. Besides, old buses have no market. In addition, the cost to buy a new bus now has reached VND2-2.5 billion.
Developing public bus transport in the City needs special attention, but for all kinds of reasons this has been lagging behind.