A nearly four hour heavy rain together with high tide on Saturday afternoon caused severe flooding and traffic gridlock along several streets in Ho Chi Minh City.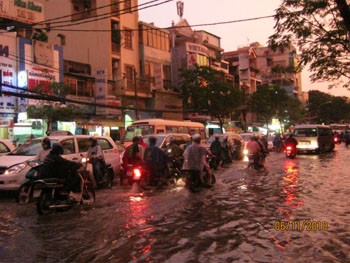 Several motorcycles break down due to heavy rain-triggered flooding in Xo Viet Nghe Tinh Street, Binh Thanh District, HCMC on November 6 (Photo: Nguyen Mien)
In Binh Thanh District, the knee-deep floodwaters left several motorcycles break down along streets like Dinh Tien Hoang, Xo Viet Nghe Tinh, Bach Dang, D2, D3, and Binh Quoi.
Several people were found continuously bail water out of their homes during the rain along D3 and alleys on Dien Bien Phu Street.
In District 4, the waters caused flooding and traffic jam on Khanh Hoi and Hoang Dieu streets. Two of the worst inundated streets in the area were Nguyen Huu Hao and 37, where nearly whole of motorcycle wheels were dipped in floodwaters.
Along Hanoi Highway in District 2, the rain also created flooding on the road for two-wheel vehicles, direction to Thu Duc District.
The condition was not better along streets like An Duong Vuong and Hau Giang in District 6, Chau Van Liem in District 5 and Huynh Tan Phat in District 7.