The Department of Planning and Investment (DPI) of Ho Chi Minh City (HCMC) celebrated its 30th anniversary on May 23. On this special occasion, the DPI was honored with the First-class Labor Medal from the President and Traditional Flag from HCMC.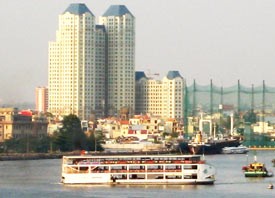 With the task of promoting and supporting investment into HCMC, DPI makes great contribution to the development of the city. (Photo: T.C.)
At the anniversary, DPI honorably welcomed the presence of Member of the Politburo, Chairman of HCMC People's Committee Le Thanh Hai, Member of the Party Central Committee, Standing Deputy Secretary of the HCMC Party Committee Le Hoang Quan, and heads of ministries and government agencies.
The Planning Committee of HCMC was established on November 15, 1975. The Planning Committee and the Committee of Cooperation and Investment of HCMC merged as the DPI in 1995.
In the past 10 years, with the role of state management in many fields and counsel for authorities of HCMC, the DPI has continuously improved its working processes, increasing the efficiency of its activities.
The DPI has currently applied the quality management system ISO 9000-2001 to the state management in four activities: issuance of business license, issuance of foreign investment license, management of DPI-in and -out files, solving people's complaints and denouncement.