HCM City is expected to receive €1.5 million from the Dutch government for an advanced flood prevention project early October. With much work to be done, SGGP talked with two experts to answer issues arising from the proposed project.

Many flood prevention measures have been applied but none really works

Dr. Ho Long Phi, deputy head of the HCMC Flood Prevention Program Management Center, said that some four years ago, with finance from the Japan International Cooperation Agency (JICA), the city made a plan for a drainage system, which has been used as a foundation for the current building of a series of environment improvement projects.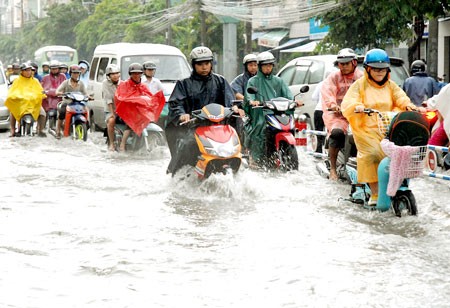 Minh Phung Street, District 11, HCM City, after heavy rains (Photo: SGGP)
The projects, according to Dr Phi, include improvement of the environment conditions of the Nhieu Loc – Thi Nghe Valley, improvement of the water environment in Tau Hu- Ben Nghe Valley and upgrading the urban area in Tan Hoa - Lo Gom Valley.

Dr Phi said that such projects have only focused on helping the city deal with floods caused by rain water by upgrading its existing backward and deteriorating drainage systems.

The Department of Agricultural and Rural Development has also carried out other projects, including building new pumping stations and dyke systems in districts 6, 8 and Binh Thanh in an effort to ease the flooding.

Dr Phi, however, said that no matter how hard the efforts, flooding in the city does not seem to ease. He said that about ten years ago, some 100 sites in the city were reported to have suffered flooding in the rainy season and such a figure continues today.

He pointed out that the situation appears to be even worse at present, as many streets in the city soon turn into rivers after heavy rain. Flood water has invaded areas near the city center, which until recently had rarely reported flooding.

The main factor, said Dr Phi, for the failure is the random raising of thousands of construction works between 1990 and 2009, many of which have filled and leveled 46 small and large irrigation canals and ditches, a total area of 17 hectares, blocking natural drainage systems.

Another is that the city's current substandard infrastructure cannot meet with the boom in population, due to the increase of migrants flocking to the city from rural areas, he said.

Dr Phi also pointed out that the adverse impact of climate change has brought heavier rains to the city coupled with the loss of road surface due to unfinished environment improvement projects that have made the flooding even worse.

Will the Dutch flood prevention project really work?

According Dr Phi, the flood prevention project, funded by Dutch government, will focus on solutions to control the volume of rain water, which currently far outweighs the capacity of existing drainage systems in the city and prevent the formation of new flooded sites on streets.

Under project plans, aboveground and underground reservoirs will be built.

Aboveground reservoirs will be built in the form of artistic public works in residential areas, while underground reservoirs will be built under parks or stadiums to contain rain water in the rainy seasons.

In dry seasons, the underground reservoirs will be turned into playing grounds or parking lots.

Some standby reservoirs will also be built in rural areas. They will be used to temporarily store rain or flood water when those in the city are full.

Dr Phi emphasized that the fact that rain or flood water temporarily diverted into rural areas, to some extent, will be beneficial to the soil as the he water will bring silt.

He said that the cost of building the reservoirs is much lower than that of building dykes and drainage systems. Above all, the building of dykes in rural areas in the context of climate change is not practical because the dykes will be overloaded soon due to the increasing volume flood water brought about by heavy rains.

Dr. Nguyen Trung Viet, manager of the Solid Waste Management Department of the city's Department of Natural Resources and Environment and responsible for building plans to cope with climate change, said that building aboveground and underground reservoirs is the most flexible and advanced initiative in coping with natural challenges at present.

Dr Viet, however, said the application of such initiative does not suggest that there will be no need to build more dykes and drainage systems. In residential areas, substandard drainage systems must be upgraded and new ones built to ensure an effective drainage.

Both Dr Phi and Dr Viet stressed that no matter how advanced the initiative is, flooding in the city will not come to and end if there are no harsh disciplinary measures to prevent people from deliberately leveling canals and ditches.