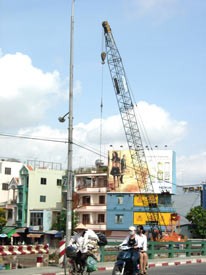 Nam Ky Khoi Nghia Street project is under construction. (Photo: T.C)
Ho Chi Minh City should accelerate its economic efforts and implement concrete measures to raise people's living standards. These were some instructions of Chairman of the Ho Chi Minh City People's Committee Le Thanh Hai in a meeting on the city's socio-economic situation in the first 5 months and main tasks of June 2006.
According to the committee's report, there has been a year-on-year increase in the city's income and expenditures, total export turnover and industrial production value.
Particularly, from early 2006 to date, foreign investment has reached US$764 million, which is 2.8 times higher than that of the same time last year, with more than 100 projects licensed.
However, the report said that some key construction projects such as East-West Highway, Nguyen Van Cu Street, Nam Ky Khoi Nghia Street and Thu Thiem Bridge have been dragging on, due to difficulties in relocation and compensation of residents.
To reach an annual GDP growth rate of 12 percent as planned, the city will have to double its efforts in the last six months of the year. Chairman Le Thanh Hai pointed out that the main task in the city's schedule should be to focus on boosting economic development, and addressing some issues such as housing program, legal disputes, drainage and clean water supply.