With the Ho Chi Minh City Party Committee reaching the halfway mark of its five-year term, the city economy remains in good shape despite myriad problems like the high inflation and global economic recession.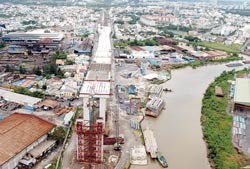 Phu My bridge, upon completion in Oct. 2009, will contribute to the city's socio-economic development
The city almost saw its economic targets lowered earlier this year because of the troubles but the committee decided against it and the economy is on course to achieve the targets.
People's Committee Chairman Le Hoang Quan told industries and official agencies, "It is overcoming all difficulties that will prove the city's strengths and creative efforts." 
The city administration took measures to successfully tackle problems facing businesses -- including shortage of capital, scarcity of foreign currency for import payments, high inflation, and others.
Inflation has thus been restrained and the economy is on the road to recovery. The good performance of the city, one of Viet Nam's major economic hubs, is also driving the growth of the national economy.
The city's GDP expanded by 12.2 percent in 2006, 12.6 percent last year, and an annualized 10.5 percent in the first half of this year.
Foreign direct investment (FDI) in the city has increased consistently in the past few years. In the first half of this year, it was US$7.1 billion, ten times up year-on-year.
Poverty has fallen from 6.18 in 2006 to 1.35 percent this year.
The economy's sterling performance owes in part to its restructure, with the city administration placing emphasis on services.
 
The services sector grew 13.8 percent in 2006, 14.3 percent last year, and 10.8 percent in the first half of 2008. Finance-banking, tourism, post and telecommunications, and transport and warehousing-port posted high growth rates.
Industry too posted high growth in the first half, especially the engineering, electronics, chemicals, rubber, and plastic sectors. They together accounted for 58.4 percent of the industrial output.
Meanwhile, agriculture grew at an annualized 9.85 percent.
Of the 12 socio-economic targets set by the 7th Congress of the Ho Chi Minh City Party Committee for 2006 –10, seven have been achieved this year in terms of the five-year average.

They include the GDP (12.02 percent against the average growth target of 12 percent), services (13.4 percent against 12 percent), agriculture (5.08 percent against 5 percent), gross capital formation (20.7 percent compared to 15 percent), population growth (1.06 percent against 1.1 percent) and hospital beds per capita (42.8 beds/10,000 people against 40/10,000).