Twenty traffic works have come into operation and reduced traffic congestion in several areas in Ho Chi Minh City since early this year. The city authorities now strive for completion of a number of other key projects by the year-end for clearer traffic.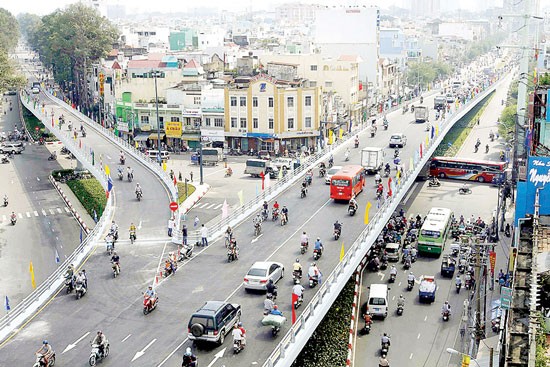 The flyover above Cay Go Roundabout has reduced traffic congestion in the area, District 11, HCMC (Photo: SGGP)
Hanoi Highway is the main road in the city's eastern gateway. It used to face permanent traffic gridlock with the worst congestion being in front of Suoi Tien Park. Vehicles waited in long lines for three to four hours before getting out from the city in holidays.
A section of HCMC-Long Thanh-Day Giay Expressway stretches from the belt road No. 2 to Highway 51 has recently opened for traffic cutting the distance and time from the city to surrounding areas.
For instance, it takes only 22 minutes instead of one hour to travel from HCMC to Long Thanh district in Dong Nai because the distance is now shortened from 45 kilometers to 22 kilometers.
Inner the city, three steel flyovers have been built at VND1 trillion (US$47 million) to tackle constant traffic jam in the Nguyen Tri Phuong-3 Thang 2-Ly Thai To intersection in District 10, Gay Go Roundabout in District 11 and Hoang Hoa Tham-Cong Hoa Crossroads in Tan Binh.
The first phase of 13.7 kilometer Pham Van Dong Street, the widest in the city center with 30-60 meter width, has been done. This has helped abate traffic gridlock in front of Mien Dong Bus Station and Dinh Bo Linh Street.
The second phase stretching from Binh Trieu Bridge to Linh Xuan Intersection in Thu Duc is expected to be built by the end of this year.
After completion, the Pham Van Dong Street will connect HCMC with satellite towns in the neighboring provinces of Binh Duong and Dong Nai, said the HCMC Department of Transport. Forty percent of vehicles entering HCMC from Binh Duong Province will travel on this route.
A 9.4km road with seven bridges has nearly been built to make the eastern belt road thorough from Phu My Bridge in District 7 to Rach Chiec Bridge in Hanoi Highway in District 9.
The route will facilitate cargo transport in and out from Cat Lai Port as vehicles will not have to make a detour on Road 25B as present.
Other two key projects in the city's western gateway, the 8km Highway10 and 6km 10B, have been behind schedule for the last several years due to site clearance.
The Transport Department said that the city determined to complete them by the end of this year to connect HCMC with Long An, and other provinces in the Mekong Delta.
The two roads will reduce traffic pressure for the National Highway 1A in Binh Chanh District and shorten cargo transport time between industrial zones in HCMC and Long An.
 
Besides, the city is also struggling to open for traffic two small but important works as soon as possible. They include the 700m Kinh Bridge, the only one connecting Thanh Da Island with other districts in HCMC, and a 1.8km road link up the National University in Thu Duc District with Dong Nai Bridge.