Eight  winners of Ton Duc Thang Prize were honored yesterday for their achievement and contribuition to city development.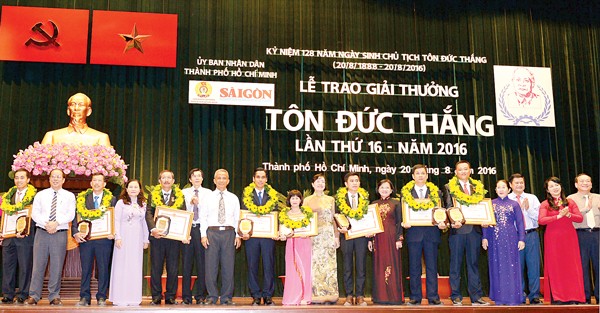 At the award-giving ceremony (Photo: SGGP)
The awarding ceremony was held on the occasion of the 128th birthday anniversary of the late President who the prize is named after.
These outstanding persons have not only performed well in their work but also provided training for workers who will prove to be important contributors later.
Speaking at the awards ceremony, on behalf of city leaders, Deputy Chairman of the city People' Committee Huynh Cach Mang highly appreciated the honored individuals who have greatly contributed to the country's development in general and the city's growth in particular during 30 year of Doi Moi (Renovation). He congratulated the prize winners, expressing that they will continue devote in their field to have good initiatives which have proven technologically advanced and useful have achieved a level of excellence to be admired.
He added they are shining models for their colleagues to follow.
Moreover, he said, all government and related agencies and labor unions should actively liaise to tackle workers' concerns and carry out policies of social welfare in order to raise spiritual and material life of workers and their families.
Additionally, unions should increase information of good examples of workers amongst their counterparts and create favorable conditions for the prize winners to continue to devote and contribute to production procedure and society's growth.
At the ceremony, the Labor Union also presented certificates of merit to 4 workers and engineers who entered the final round.
The award was found by Sai Gon Giai Phong Newspaer and HCMC Labor Confederation  in 2000, aiming to honor skilled workers who have made good initiatives to save energy, decrease production cost, improve labor productivity, making more profit for enterprises, and train their counterparts in the movement of following exemplary worker Ton Duc Thang, who was the successor of President Ho Chi Minh, during the cause of national industrialization and modernization.
For 16 years, 170 outstanding workers of the city have been awarded with the prize. Since 2015, some 5,929 initiatives worth VND659 billion have been made a profit of VND270 billion (US$12,106,800) and save more than VND351 billion for enterprises.
The honored workers this year were Huynh Tuan Dung from Ben Nghe Port Company's Technique Room,  Vo Thanh Cuong from the Electricity Company, Nguyen Hoang Chi from Sai Gon Electricity Company,  Tran Bao Giang from Ben Thanh Tobacco Company, Tran Huu Tai from Ben Thanh Rubber Company, Nguyen Hong Nhan from Unilever International Company Vietnam, Nguyen Thi Hue, from Research and Development center for High Technology Agriculture in HCMC and Ha Quoc Cuong from TICO company.