An emergency meeting organized by Tan Xuan Bao, Vice President of Binh Thanh District took place yesterday to discuss the continuing landslides at Thanh Da Canal in Binh Thanh District of HCMC.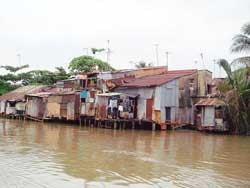 Eight houses are in danger of falling into the canal

The crack has continued to widen at the spot of the last incident and land and fifteen houses have now fallen into the river, whilst eight others now perched on the edge of the canal at a 45-degree angle are going to fall into the water below very soon.

Many new cracks have appeared at the foot of King Bridge, varying from three to five centimeters in width and causing damage to sixteen stilt houses.

Tan Xuan Bao has requested that the relevant government departments, army and police force in the district immediately move forty-eight individuals from eight households to safety at a nearby apartment block. He has also asked that the Department of Urban Management survey and clear where necessary forty other severely damaged houses.

To prevent any further similar incidents, Mr. Tan has asked the Department of Transport and Construction to forbid any trucks weighing over 2.5 tons from passing over the weakened land of Tam Vu Street and to stop any ships from traveling along the canal.

The salvage of the fallen houses from the canal cannot continue because of the high risk of danger, declared the authorities.

In spite of the bad weather, residents moved their furniture to safe-havens.

Each affected family will receive VND 5 million (approx US$312) in support from the authorities.