Living and working in Ho Chi Minh City for the last two years as a pilot for Vietnam Airlines, 27-year-old Dan Winthorpe, a British national, has found his calling in life as he harbors plans for improving the lives of disadvantaged children in Vietnam.

On July 14, Dan Winthorpe intends to conquer the three highest peaks in Scotland, England and Wales and bring the attention of people in the world to the plight of disadvantaged children in Vietnam.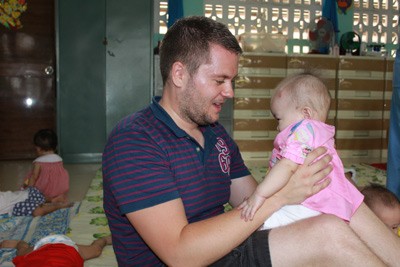 Dan Winthorpe with an unfortunate disadvantaged child in the Sponsor Center for Foster Children in Go Vap District in HCMC.
Dan has been involved in volunteer work in Vietnam since last October, most of the time with the Sponsor Center for Foster Children in Go Vap District in HCMC.
After more than a year in HCMC, Dan said he felt deep attachment to the city and thought he should do something to benefit the place and its people.
He searched the Internet and found an organization named Vietnam Volunteer Network (VVN) whose work seemed to appeal to him.
He soon met Kim Nguyen Browne, founder of VVN. In 2011, Browne had come to Vietnam to participate and explore the many activities at the 50th anniversary of the US Army spraying of Agent Orange over parts of Vietnam.
Kim Nguyen Browne showed Dan how to approach the disadvantaged children in different circumstances especially those with disabilities and incurable diseases such as Down syndrome, hydrocephalus, multiple malformations, etc. Since then Dan has met about 85 percent of the affected children.

Dan shared with reporters that each time he visited the center he felt more motivated and found it a place to "purge" his spirit and put aside the worries and pressures of life.
The unfortunate disadvantaged children do not require much time from anyone of us, said Dan. "If you do not have much time, you only need one hour or 30 minutes each day to visit them or take care of them as they only need our love."